Seniors have the highest medicine consumption rates in the United States. However, overdosing, compensating, and missed doses are real issues affecting this demographic. Unfortunately, the consequences of drug noncompliance can be particularly serious in older patients.
Drug noncompliance can lead to hospitalization, escalating health costs, aggravation of diseases, and sometimes even death. To ensure that you always take your medication on time and in the right doses, it can be a good idea to invest in an automated pill dispenser.
What Are Automatic Pill Dispensers?
Automatic medication dispensers are electronic devices that dispense pills automatically at set times throughout the day. The devices have several compartments that can store anywhere from one week's supply of pills to a few month's supply of different pills.
They are ideally suited for those suffering from long-term health conditions or those with cognitive impairments, such as those with dementia or Alzheimer's disease that are required to take medication regularly but may struggle to remember when they should take it.
How Do Automatic Pill Dispensers Work?
Automatic medication dispensers have several small slots for holding the pills, which after the stock has been replenished, can be locked, thus preventing children from fiddling with them. The devices dispense a pre-set amount of medication at set times during the day.
What Are the Benefits of Automatic Pill Dispensers?
Medication dispensers play a critical role in promoting medication management by helping organize medication in advance and dispensing it at the prescribed times. Here are other benefits of these devices:
Ease of Medicine Retrieval
Automatic pill dispensers readily dispense medications at prescribed times. You don't have to struggle with the cap of a bottle to reach the medicine. Most dispensers have a mechanism that rotates the tray thus releasing the medication. All you need to do is pick it up and swallow.
Saves Time
Labels on pill bottles sometimes come in small print that can be difficult to read especially if you have vision problems. Opening them is also time-consuming. If you have an automatic dispenser, you load the pills once and only reload after a long period. This saves time and gets rid of frustration.
Prevents Medication Errors
If you are an elderly person, it can be easy to skip doses or take the wrong medication. With an automatic medication dispenser, however, you never have to worry about taking the right medication in the right dosage since it is pre-sorted.
Reminder to Take Medication
Your memory is probably no longer as good as it was back when you were younger. If you have an automatic pill dispenser, your memory shouldn't be a problem since it will remind you exactly when to take the medication. This greatly improves your medication adherence and safety too.
Freedom and Independence
Having an automatic pill dispenser helps reduce the workload of your caregivers and gives them peace of mind. It also frees you from having to rely on another person to give you your medicine several times a day. It can help you live a more independent life.
Are There Any Disadvantages to Using an Automatic Pill Dispenser?
A medication dispenser is an invaluable tool for preventing the mismanagement of medication, but it does not prevent all drug dispensing and medication adherence errors, which means that it isn't the magic bullet for ending all adverse drug administration errors.
Automatic Pill Dispenser Reviews
Hero Pill Dispenser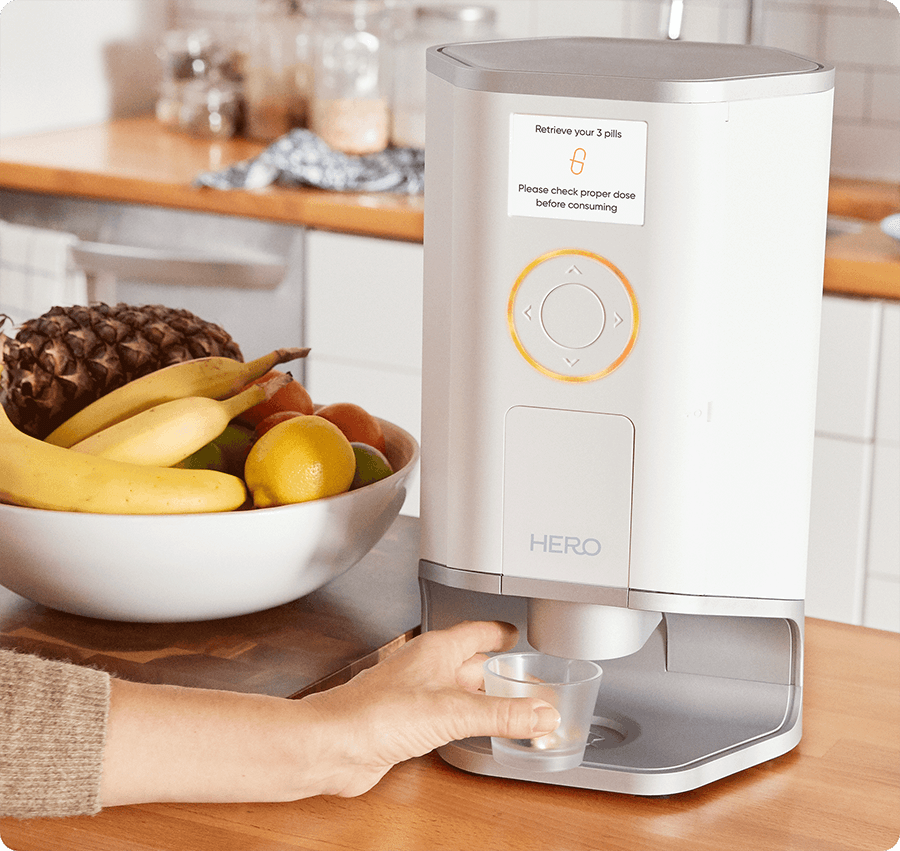 Modern medicine has achieved incredible breakthroughs that aid individuals with severe medical ailments maintain an excellent quality of life. However, half of Americans never take their medications as prescribed, and about 10% of senior hospital visits are because of all-too-easy mistakes in medicine. For most seniors – and for many reasons – it can't be easy to track when to take several prescribed medications and at the right dosage.
So, this is where the Hero Automatic Pill Dispenser comes in. But how well does this Hero Automatic Pill Dispenser system function? And is it worth the money for you and your loved one? In general, Hero focuses on protecting our loved ones and us from the possibility of missing doses using the wrong medicine by mistake or taking an improper dosage. These simple missteps could result in very serious -possibly life-threatening – consequences. For this reason, avoiding them is an essential goal.
The pill dispenser can handle as much as ten different types of medications. What's more, the containers are big enough to last for quite some time. For most medication regimens, this system can carry a month's worth of pills, which means filling be once every month.
Pros:
The dispenser can carry up to 90 days of medicine.
Can manage scheduling for up to 10 different daily doses and medications.
Has both visible and audible alarm.
This dispenser can automatically order medicine if it is running low.
Pay with HSA or FSA money (and possibly insurance, based on your plan).
Cons:
No back-up battery power.
Can't handle gummies, liquids, or halved/quartered pills (but it could remind you about these).
The setup might require assistance based on the tech-savviness of the user.
---
MedReady 1700 Medication Pill Dispenser
The MedReady 1700 is a basic, affordable pill dispenser for dementia patients those looking to test out the idea of using a medication management device. It has 28 compartments capable of holding up to 9 pills each. It has an 85-decibel alarm that sounds when it is time for the next dose. It alerts/dispenses up to 4 times a day. It also has a tamper-proof lockable lid and battery back-up in case of a power shortage.
The MedReady 1700 is a great tool especially for caregivers since it is so accessible and simple. However, it has its drawbacks with the biggest one being that it has an audible alarm system as opposed to a visual one, which means that it might not be so helpful for those with hearing issues.
Pros:
Just enough features without being too complicated
Decent pill capacity to meet the needs of most users
Battery backup system in case of a power outage
Lockable lid
Loud enough for those that are hard of hearing
Cons:
Cannot retake a missed dose
Does not have a visual alarm to help those with hearing problems
Here's a video of the MedReady 1700 in use:
---
MedReady 1700-FL Medication Pill Dispenser with Flashing Light
The MedReady 1700FL is quite simply an upgrade of the MedReady 1700 featured above. It is electrically powered, but has a backup battery in case of any power outages. It has 28 compartments capable of holding up to 9 pills each. It dispenses up to 4 doses per day.
It has a dual alarm system; one visual (flashing light) and the other one audio. You can use one, both, or none. You don't have access to missed doses to help you avoid overdosing.
Pros:
It fits several dose cycles, which means that it doesn't have to be frequently replenished
The lock and key setting ensure that the medication is safe from tampering
The flashing light captures your attention even when you are asleep
The battery backup system ensures that the device keeps working even during power outages
The audible alarm rings until the dispenser door is opened
Cons:
Missed doses cannot be retaken
The audible alarm might not be loud enough for those with hearing problems.
---
MedCenter – 31-Day Pill Organizer with Reminder System
The MedCenter pill organizer can hold up to 60 pills depending on their size. It uses a color-coding system to help caregivers keep up with the daily medications and when the last medication for the day has been given. The alarm system can be programmed for up to 4 medication reminders per day. It is battery powered and uses AA batteries.
The pill compartments have dates inscribe on them and the date on the compartment can be easily matched to that on your alarm as well as the clock on your display. That ensures that you are always taking the proper dose.
Pros:
The pill organizer accompanying the alarm is lightweight plastic thus making it easy for caregivers to clean and transport.
The alarm comes with large buttons and a large display to allow for easy access even for those with eyesight problems.
The alarm has a loud alert and can be set to go off for up to 4 times per day making it unlikely for it not to be heard.
The pill organizer alerts caregivers when it is the right time for taking medication as well as when the next dose will be.
Setting the alarm is easy, which means that caregivers won't have any problem reminding their loved ones that it is time to take their medication.
Cons:
It only allows for up to 4 medication alarms and this can be insufficient to meet the needs of some people
The pills may not fit into the organizer compartments if they are larger in size
Some compartments might be harder to open
This video, while a bit commercial, shoes how this system works:
---
MED-E-LERT Automatic Pill Dispenser With Clear Top
The MED-E-LERT Automatic Pill Dispenser has 28 compartments that allow loading up to 18 aspirin-sized pills each. It can be programmed to dispense a maximum of 6 doses a day. You may not have to reload until after one month depending on your dosage. It is powered by AA batteries and comes with a manual key to prevent inadvertent opening.
The dispenser has clearly labeled compartments and it has a secure lid as well as a digital clock face in the middle. The lid has been designed to be tamper proof to ensure that seniors never overdose, get confused, or change the order of the drugs. It provides both visual and audible alerts when it is time to take medication thus increasing the chance of the user noticing the dispenser.
Pros:
It uses both visual and audible alerts
It features the classic, but highly effective rotating system
It can store hundreds of pills at on go, which makes it easier to load
Dosage settings are stored even if the battery runs out
It has in-built power saving features with the display turning off after 10 minutes thus saving power
Cons:
Battery replacement can be difficult for people with Alzheimer's disease or dementia
The cover can be pried open
Here is the manufacturer's instructional video for more info:
---
MedQ Daily Pill Box with Flashing Light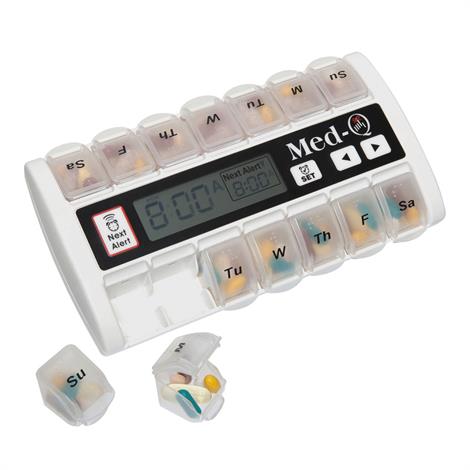 The MedQ Daily Pill Box with Flashing Light has 14 pill box containers that can hold a maximum of 10 pills each. It can be set for either a once-a-day or twice-a-day reminder. If you set the once-a-day reminder, it will be filled for a 2-week cycle. If you choose the twice-a-day reminders, it will be filled for a 1-week cycle.
The MedQ daily medication reminder's alarm system starts softly and gradually increases in volume to avoid agitating the user. It also offers anti-skid bottom to ensure that it stays firmly in place, easy-to-open pill compartments, as well as a low battery indicator to help you and/or your caregiver keep the unit in proper working condition.
Pros:
The alarm starts off softly and gradually increases in volume and is loud enough for even those with minor hearing problems
It is highly usable either at home or on short trips
The alarm lights and beeps indicating which medication should be taken at what time thus helping reduce medication errors
The device is simple to use since you only have to fill it once a week or every other week depending on the medication schedule.
You can take out the pill reminder compartments, which allows for easier cleaning and carrying your scheduled pills with you as opposed to the entire pill box.
Cons:
It has limited storage capacity that limits the number of pills or doses you can have in the pillbox.
It doesn't have a notification for missed doses
See the Med-Q in action in the following video:
---
MedaCube Automatic Pill Dispenser
The MedaCube Automatic Pill Dispenser is remarkably different from the other compartmentalized products featured here. This machine comes equipped with 4 large bins and 8 small bins capable of holding up to a 90-day supply of pills. It holds up to 12 different types of medications. It offers programmable dosing on a per medication basis. No sorting of medication is necessary since it does it all for you.
The MedaCube Automatic Pill Dispenser is designed for those that forget easily and sends an alert to caregivers or family members through text messages or email thus making it harder to forget a dose. You can use custom audio as an alarm. It is electrically powered but has a battery backup to keep it running in case of a power outage.
Pros:
Highly accurate when it comes to dosages
Easy to use
Self-sorting dispensing system
Programmable dosing on a per-medication basis
All kinds of customization options
Cons:
Quite bulky compared to other dispensers
More expensive
Here is an overview video from the manufacturer for a quick demonstration:
---
e-Pill MedTime XL Advanced Automatic Pill Dispenser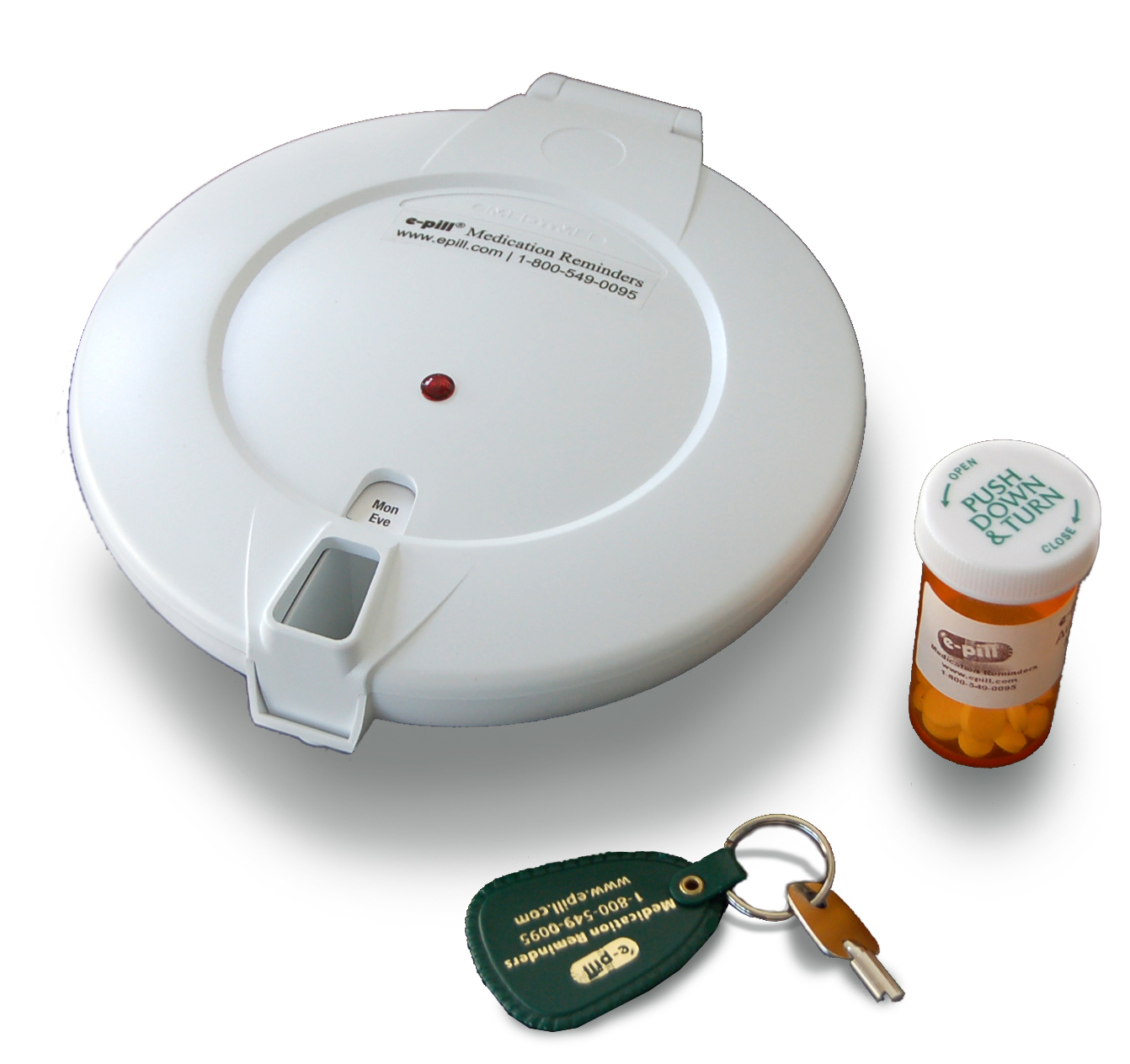 The e-Pill MedTime XL Advanced Automatic Pill Dispenser provides an alert and dispenses medication up to 28 times before it has to be reloaded. It has 28 compartments capable of holding 15 aspirin sized pills each. It can be programmed for up to 28 alarms a day.
The e-Pill MedTime XL Advanced Dispenser flashes a light and rings an alarm until it is turned upside down to pour the pills into the hand. It only turns off after 1 hour if it isn't turned off. It also has a lock to prevent accidental overdosing. The setup procedure is relatively straightforward.
Pros:
Straightforward setup
Automated dispensing of even complex medication schedules
It is easy to use
It has several test functions for determining whether it is working properly
Several different alarm sounds are available.
Cons:
The locked dispenser and/or the alarm may agitate a person with dementia
Dispensing might be automatic, but there's no guarantee that the medication will be taken
Learn more about the Medtime XL in this video from the manufacturer:
---
Buying Guide: What to Look for When Buying a Pill Dispenser
Here are some of the things you should look for when buying a medication dispenser:
Pill Capacity
The dispenser's capacity is one of the top considerations. Do you need to take a pill a day, every week or do you have to take several pills throughout the day? If you take multiple doses throughout the day, it can be a good idea to choose a dispenser with sufficient compartments for storing all your medication.
Alarm
The alarm on the medication dispenser is another important consideration when making your purchase. Some dispensers have the option of both visual and audible alerts while others have just one type of alarm. The alarm on the device you choose should be loud enough and recognizable too so that the user can easily hear it.
Power
Pill dispensers can be either battery powered, electrically powered or they may use a combination of both. It is generally preferable to have a one that's powered by two power sources compared to one that's solely electrically powered since the device can run off batteries in case of a power outage and will still function properly.
You should also consider if the device requires a phone line or not. If it does need connected to a phone line, this might limit your placement choices.
Lockability
Pill dispensers sometimes feature a locking mechanism whereby access to the dispenser is restricted outside the prescribed times. Lockability is an important feature since it increases user safety by preventing them from taking the wrong medication or even overdosing. A lockable device is recommended for those that may get confused easily such as those with cognitive impairments.
Portability
A portable battery-operated model is ideal for those that require a medication dispenser that they can easily carry with them when they travel. Such pill dispensers are usually lightweight and small enough to fit in a bag and can allow you to take vital medication even when you are not at home. If you are simply looking for a dispenser to use at home, you should opt for a larger model that will almost always have more features.
Frequently Asked Questions/FAQs:
How can I remember to take my medication?
You can have a caregiver or a loved one remind you to take your medicine. You can also keep it visible. You can always set an alarm to remind you when to take the medicine. Alternatively, you can invest in a pill dispenser that has an alarm to remind you when you need to take your medication and keeps it visible .
Do automated dispensing machines improve patient safety?
Automated dispensing machines can enhance the efficiency of medication distribution and increase patient safety by providing a good balance of accessibility, security, as well as inventory control.
Does Medicare pay for pill dispensers?
Medicare does not pay for electronic pill reminder services by any name. Medicaid, however, may pay for the cost in some states, but this is something you have to check in your state's regulations.
What is the best automatic pill dispenser?
The best automatic pill dispenser is one with a dual alarm system (visual and audible), a dual power system (mains and battery), dispenses medications at least 4 times a day, and has a large enough storage capacity.
Summary and Final Recommendations
Pill dispensers play an indispensable role in your life by making sure that you take the right medication, in the right dose, and at the right time. The best pill dispenser is one that's reasonably priced, has a decent capacity, has a dual alarm system, a dual power system, and dispenses medication at least 4 times a day.
I like the Med-E-Lert Automatic Pill Dispenser since while it is powered exclusively by AA batteries, it is reasonably priced, it dispenses up to 6 doses a day, it has 28 compartments that hold up to 18 pills each, it is lockable, and has an audible and visual alarm system.