I get asked about this subject a lot in my position as a provider of manual and power wheelchairs. People know that users of wheelchairs need things but they just aren't sure what those "things" are. Many wheelchair users I work with are also too proud to ask. So, I thought I'd put together some ideas for gifts for people in wheelchairs – ones that they will want and will be thrilled to receive.
General Gift Ideas for Wheelchair Users
Like I discussed in my recommendations for comfortable wheelchairs, insurance companies only pay for items that are medically necessary. Many of the accessories that would improve the function of a wheelchair user don't meet their criteria. You know, things like cup holders, wheelchair bags, wheelchair gloves, etc. But many of these types of items would make being in the wheelchair easier.
RELATED GUIDE: Great Subscription Boxes for the Elderly
Gifts Under $25.00
Dynotag SuperAlert ID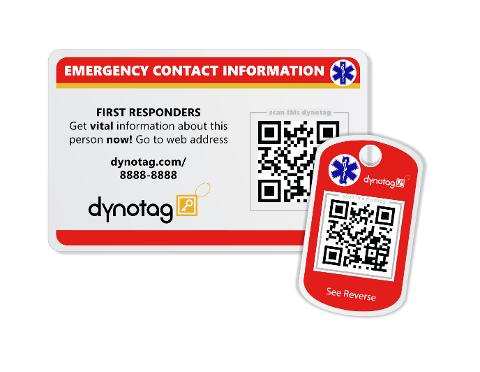 DynoTag offers Medical ID Tags that can be beneficial to anyone. However, they can be especially useful for wheelchair users with medical conditions that need to be known by anyone offering them medical treatment. Through these ID tags, you will be able to input and keep track of all of your doctor's contact information, your insurance information, any medications you are taking, and everything else that a first responder or medical professional would need to know while providing you with medical treatment.
Not only does using a Medical ID Tag provide peace of mind to the wearer, but it can offer peace of mind to family members and loved ones. After all, first responders will be able to provide a safe and immediate medical response to the wearer because they will have all of the much-needed information to treat them without the risk of an allergic reaction or anything else.
You have a variety of options to choose from when it comes to Medical ID tags from DynoTag. This means seniors will be able to choose from mini tags that they can include on their key chains to wristband tags they can wear.
---
Pembrook Wheelchair Side Bag
Did you know that wheelchairs do not typically come with anywhere to put "stuff"? If the wheelchair user has loose items, they usually use a purse or backpack and hang it on the back of their chair. This makes reaching items difficult. Especially items like cell phones that they may want to get in a hurry. That's why this wheelchair bag is a great gift idea. It straps to the arm of the wheelchair keeping the items close and easily accessible. This will definitely be appreciated.
---
Vive Wheelchair Bag
The wheelchair accessory bag mounts to the back canes of a wheelchair or the arms with two universal buckle straps. It also works well with walkers, rollators, disability scooters, and other medical equipment. One large compartment in the center with 2 outside pockets for quick access. Includes a carrying strap. Available in black and 2 floral patterns.
---
Life Mounts LED Wheelchair/Walker/Cane Light
This would make an awesome gift for someone in a wheelchair. Especially for the ones who have to get up a lot during the night. This bright LED light mounts to the wheelchair and lights the way for the users hands free. All of this in a device that is only 3″ high x 3.5″ long x 1.5″ wide and weighs only 3.4oz
---
Gifts Between $25.00 and $50.00
GRIP Lap Board
This textured non-slip tray keeps plates, glasses, and other items from sliding off the tray. Even if tilted. Wheelchair users often propel their chairs while trying to balance trays of food on their lap. This tray reduces the chance of a spill. It also does this without being tacky or sticky to the touch.
---
AmeriMark Padded Seat Cover for Wheelchair
Here is another great gift idea for a person in a wheelchair. This cushion covers the entire seating surface of the wheelchair with soft, pillowy comfort. Cushion wraps to cover armrests too. The user is completely hugged by the cushion and it could even help them sit up straighter too. Machine washable for easy cleaning.
---
Secure SLC-1 Easy Release Wheelchair Lap Tray
I like the idea of this cushion as a gift especially for people who lean forward or are having problems falling out of the chair. While its real design is to keep people from falling forward, it can also double as a soft place to rest the hands and as a wheelchair tray. Easy to wipe down and clean.
---
CareActive Wheelchair Rain Poncho
There are times that wheelchair users are forced to go outside in the rain and bad weather. This poncho is designed especially for people in wheelchairs and will not get tangled in their wheels. Keeps their hands free to propel themselves. It is made of a waterproof material with a soft lining on the inside. Also reusable and machine washable!
---
Wheelchair Hand Grip Extensions
Ok, really this gift is more for the caregiver! A frequent complaint of family members is that the wheelchair is too low. This means the caregiver has to bend over to push the chair. Back pain is the result. By raising the height of the push handles, the caregiver is at a height to reduce back pain but nothing has changed for the patient. A win-win!
---
Quilted Wheel Pouch for Wheelchair
People in wheelchairs often have trouble finding a place to put small items while in wheelchairs. This product solves that problem. It mounts easily and securely to the wheelchair handrims with velcro straps. It has a large inner pocket with a small outer pocket. Great idea for storing reading material or a cell phone.
---
Heavyweight Wheelchair Blanket
Many of the medical problems that cause people to use wheelchairs also make them cold often. This ultra-soft dual-layered fleece blanket can really help with that. Even includes a pocket on the front for keeping the patient's hands warm. Attaches to the wheelchair with small velcro straps to keep it from getting in the wheels or getting run over by the chair. Machine Washable
---
Gifts Over $50.00
DMI Clear Wheelchair Tray
Wheelchair trays are a tremendous help to those in wheelchairs. They help with eating, writing, crafts and other activities and make them easier to do from the wheelchair. Another good idea is to use them as a desk for a laptop! The tray attaches to most standard wheelchairs with velcro straps that wrap around the arms. This tray stays pretty secure unless the wheelchair user moves a lot.
---
Gel Chair Seat Cushion
This seat cushion is made of a unique elastic gel material that is comfortable, soft, strong, and maintains its shape. It makes sitting in a wheelchair for long periods of time much more comfortable. It remains cool even with hours of use and reduces sweating and uncomfortable moisture.
---
Summary
Many users of wheelchairs will appreciate the thought of a practical gift that will help them in their daily life. But, many won't specifically ask for what they need. Using a gift guide like this will help get the right gift for a person in a wheelchair. You can find more gift ideas for seniors and the elderly here if you would like more ideas.
What gift do you recommend for someone using a wheelchair? Have you given a gift that was a hit? Or maybe even a flop? Share your advice and experience in the comments below. Oh! If you found this information helpful, I'd appreciate a quick share with your friends.