Are you suffering from dementia or know somebody who does? People who have seen firsthand what it's like for dementia patients to miss doses understand the importance of medication management. It isn't rare for elderly patients to forget taking a dose or two, and it isn't fair to put the blame on them.
A medication management tool can prove to be a life-saver. Some patients who miss doses attempt to compensate by taking more medication than they should, which can lead to catastrophic results. Thankfully, automatic pill dispensers have become more commonplace, equipped with new technology to send multiple reminders a day, prevent overdosing, and help caregivers monitor their patients.
In this review, I'll offer our top picks for pill dispensers for dementia. Plenty of options are available on the market, but I want to help you save time by creating a shortlist of products designed to meet different purposes.
What to Look for in Pill Dispensers for Dementia?
First of all, it's critical to identify the essential factors that separate reliable pill dispensers from those that fall short of expectations. Many patients and caregivers only look at the price of these medication management solutions, but you should learn how to look beyond the upfront cost and consider other things that will ultimately influence the day-to-day life of the dementia patient.
Ease of use – Pill dispensers should be easy to use since they're meant to make life easier for people with dementia. Figure out how easy it is to load the pills inside the dispenser. For patients who have poor vision, it's recommended to choose something that comes with a large display and clearly labeled buttons. The way in which the pills are dispensed should also be taken into account. Does the user need to open a lid, press a button, or flip the whole thing upside down?
Capacity – The number of pills that the dispenser can hold is a deciding factor. In most cases, pill dispensers can hold medications that last for a full week. Of course, this varies based on how many pills the patient needs to take in a day. If large tablets are included in the patient's daily dose, check whether they can fit inside the storage compartments.
Alarms – Pill dispensers with alarms have proven to be a huge hit since its inception. Back in the day, they would only sound an alarm to notify patients that it was time to take their medicine. Today, however, more advanced medication management tools come with alarms that not only give off sound, but also provide visual cues like flashing lights. Some even allow you to record a familiar voice, which could help in encouraging patients to follow the proper time to take their medicine. Don't forget to check the volume level of the alarm and how it can be turned off.
Locks and Connectivity – These serve as the primary security features of pill-dispensing tools. It's recommended to go for dispensers that can be locked to prevent a patient from taking more pills at once or at the wrong time. It's also wise to invest in a dispenser that can be connected to external devices to inform caregivers about when to check on the patient.
Top 5 Pill Dispensers for Dementia
Now that you more about the important features of pill dispensers, here are my top 5 recommended models for seniors with dementia:
1. MedReady 1700 Original Dispenser
MedReady is a trusted brand when it comes to medication management solutions. They offer different products to cater to the various needs of elderly patients. Their best-selling product is the MedReady 1700 Original Dispenser. This automatic pill dispenser features a sizeable 28-dose capacity, which should be enough to accommodate all the medication needs of the average patient for a full week.
This unit will set off a beeping alarm at the prescribed time, reminding patients to take their pill. You can configure the alarm to last between 30 and 250 minutes. Users also rave about how easy it is to use to the device. No problems with loading pills and locking the dispenser. It also runs on battery, allowing you to carry the device anywhere without worrying that you can't use it.
Pros:
28 slots for pills
Dispenses up to 4 times per day
Alarm configuration of up to 250 minutes
Runs both on battery and AC power
Comes with two keys
Extra tray is available for an additional cost
Cons:
Alarm may be too loud and its volume level cannot be adjusted
Heavier than other dispensers
Interested in the MedReady 1700? Click to Check Today's Price at the Alzheimers Store. It is also available at Walmart.com.
---
2. Sagely Smart Weekly Pill Organizer
This pill organizer from Sagely is undoubtedly a favorite among both dementia patients and caregivers. It stands out because of its simple yet timeless design. The Sagely Smart Pill Organizer comes with 7 containers, each of which has two compartments that can hold larger-than-average medications. The containers are color-coded as well, making it easier for patients to remember which pills to take in the morning and evening. And since there are 14 compartments in total, it can be used as a weekly pill organizer for morning and evening routines or as a two-week pill organizer for those with fewer medications to take.
The containers are attached to a magnetic tray. This means you can take out at many containers as you want by simply detaching them from the tray, taking them with you on-the-go. Sagely also takes pride in their Push-Through design that makes it simple and accurate to load pills. The only downside is that it doesn't come with a physical alarm. You need to install the Sagely Pill Reminder app which essentially acts at the pillbox alarm.
Pros:
Elegant design
Each container can be removed to improve portability
Large compartments for larger pills
Push-Through design makes loading pills fun and easy
Cons:
Requires the Sagely Pill Reminder app to send notifications via your smartphone
You can buy the Sagely Smart Pill Organizer at The Grommet or Amazon.com.
---
3. MedCenter Monthly Pill Organizer
If a 7-day pill organizer just doesn't fit your needs, then you may want to check out the MedCenter monthly pill organizer. It's not surprising that many users consider it to be the best 31-day pill dispenser on the market. This organizer features a classic pillbox caddy system. You'll find a total of 31 pillboxes with 4 compartments each. The compartments are labeled morning, noon, evening, and night. At either end of each pillbox, you'll see color-coded numbers. Green is used to mark the remaining days of the calendar. Just flip the pillbox so that it shows the Red color once you're done for that day.
Another advantage of using this pill organizer is that it sports a very large display. Choose between two volume settings for the talking alarm. Even at the lower setting, the volume is loud enough to ensure that patients will hear the device. You can also detach the alarm, allowing you to take it with you and the corresponding pillbox for the day.
Pros:
31 pillboxes with 4 compartments each
Easy color-coded system to mark days that are done
Large screen display
Loud alarm that can be set to go off up to 4 times daily
Cons:
Considering that it's a monthly organizer, expect it to take up a lot of counter space
Time-consuming to load all of the pills inside the 124 individual compartments
Click to check today's price at Avacare Medical.
---
4. MedMinder Maya
MedMinder Maya is particularly popular among caregivers. The reason is that it makes it so easy to program the dispensing times for their patients. While this automated pill dispenser looks like an ordinary organizer, it's equipped with technology that helps patients take the right medications at the correct times. It features 28 compartments sitting on a rectangular tray. At the scheduled time, an alarm sounds off and the compartment for the day lights up. This tells the patient which compartment to open. It's also possible to set a custom message as the alarm.
MedMinder has a central monitoring system. Their device is equipped with a cellular modem, allowing caregivers to set the dispensing times remotely. The same technology also makes it easy to configure reminders and monitor the dose activity of patients. All this can be done by simply plugging in the device. There's no need for Internet access.
Pros:
Monthly pill organizer with 28 total compartments
The appropriate compartment lights up when the alarm sounds
Straightforward refilling process, all compartments are open when the main lid is lifted
Remote programming for caregivers or family members
Custom message can be used as the alarm
Cons:
Subscription-based model may not suit every user, though the monthly fee is reasonable
Learn more about this one at MedMinder.com!
---
5. Hero Automatic Pill Dispenser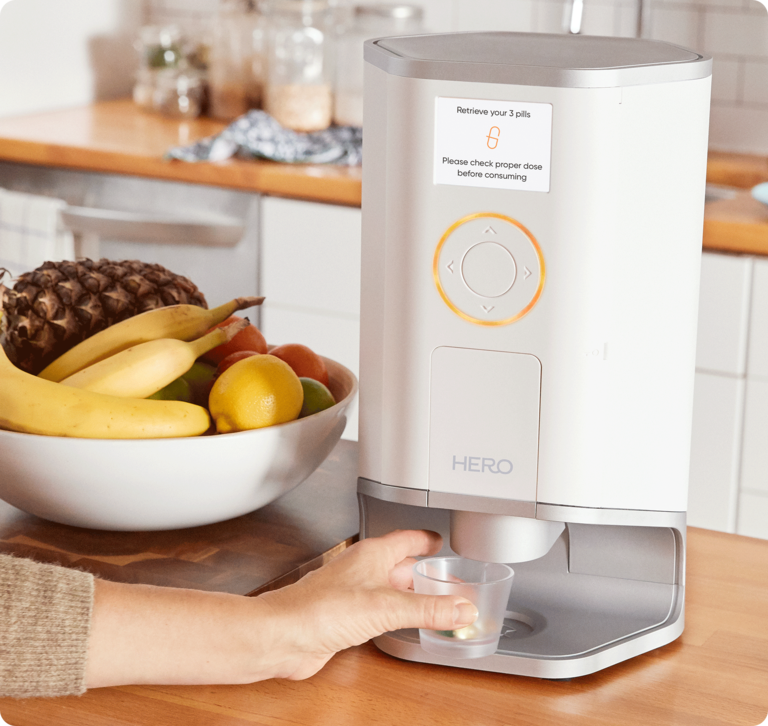 When you see this device, you might not immediately realize that it's a medication dispenser. Its contemporary design makes it more like an elegant coffee machine. But make no mistake; this pill dispenser is more than just good looks. It's a locked and timed pill dispenser that boasts of powerful features both for patients and caregivers. Upon setting up the device for the first time, you need to connect to the Internet, create an account at Hero Health, and set your medication schedule. You can also add caregivers to alert them of your dose activity.
It might look complicated to use the machine, but refilling is actually a breeze. This pill organizer can accommodate up to 10 different pills. Simply put each pill type into a separate container and then follow the on-screen instructions when placing the containers inside the device. The device makes a beep sound and a button flashes to tell you it's time to take your medications. Just push the button and Hero gives you all of the pills you need at the appropriate dose. If the cup remains on the tray for more than 15 minutes, both the user and the caregivers will receive a text message.
Pros:
Unique design makes it stand out from other medication management systems
Simple refilling system with on-screen instructions
Stores up to a month's worth of 10 different medications
Push-button ease for dispensing the right number of pills at the right time
Cons:
Requires the Hero app to configure medication schedule and add caregivers
Monthly membership fee
Click here to learn more about the Hero Automatic Pill Dispenser.
---
Conclusion
As you can see, pill dispensers for dementia come in all shapes and sizes. Not all of them are created equal, so you need to be prudent when it comes to choosing the right device for your particular needs.
Most of the medication management solutions these days use advanced technologies to guarantee that users never miss doses. At the same time, they can also offer systems that prevent overdosing.
For caregivers, it's essential to consider the connectivity of the device and how it sends notifications so you can rest easy knowing that you'll be reminded in case your patient misses a dose.