Although sleeping in a bed is the norm for most of us, it's just not possible for some people. Whether it is because they are elderly, have back pain, or suffer from a condition such as sleep apnea, there are many people who prefer to sleep in recliner chairs. Some might even just like to sleep in a recliner chair because they think it's more comfortable than a bed!
Especially for the elderly, sleeping in a recliner can make "bed" time much more comfortable. It might even allow them to sleep better and more deeply. Good sleep is fundamental to happiness, proper cognitive functioning, healing tissues, and hormone regulation. Some studies have even linked good sleep with a longer lifespan!
So, what is the best sleeping chair for the elderly? Here you go!
Quick Picks: Power Recliners for Sleeping
There are many different sleeping chairs for the elderly available in the market. But how do you know which is the best lay flat recliner? Here are some of my top picks:
Features
Rated for weights of to 350 Lbs.
Power lift recliner chair
Heat and Massage
Full Lay-Out Chaise recliner. 69 inches fully extended.
This stylish recliner is a full lay-out chaise lounger with lift and tilt features. It is available in a range of colors. The chair comes with heat and massage features and is easy to use, with a simple remote control that puts the user in full control.
The chair is upholstered with luxurious chenille fabric, and the seat box is robust enough to accommodate up to 350lbs. The chair has a waterfall back with comfortable padding, arm rests, and a padded footrest area. The chair is designed for people who are small or average height, and those who are taller than around 5'7″ may find that it is a little too short for them when the footrest is extended. The width of the chair is 21″ between the armrests, which should suit most builds. Some people opt to use a neck pillow with the chair if they are going to use it for sleeping in.
Heat and Massage
The chair has a heat unit and massage unit are popular features and make this great for people who want to relax and rest in a chair instead of in a bed with an electric blanket. The recline feature and lift features are useful for those with mobility issues, however, the leg lift does not get as high as it would on some other units. This means that it may not be the best choice for an older person with circulation issues.
The heat and massage features operate on a timer, which runs for about 20 minutes and then will auto switch off. There is the option to lock the controller so that the heat feature cannot be triggered accidentally.
Remote Control
The remote control can be counter-intuitive at first. The 'down' button is used to recline the chair and raise the feet, while the 'up' button is used to lower the feet and return the seat to an upright position. It may take a little while for a much older person to become confident with using the chair, but once they have gotten the hang of it, the increase in their wellbeing and confidence is clear.
Having the ability to use the lift feature to get out of the chair can be useful for those who may otherwise need assistance to move from the recliner to a wheelchair. The lift feels robust and the chair is comfortable enough for long-term use, and even to sleep in.
The Catnapper Soother Power Lift is a comfortable recliner with a lift feature that makes it easy to transfer from the recliner to a wheelchair if necessary. The massage and heat features make it even better value for money.
Features
Three position, all electric recliner with lift, sit or recline functionality.
Includes UL approved easy to use wired controller.
Cushions are filled with high density foam, polyester fiber and independently wrapped pocket coils.
Chair holds up to 300 pounds
Chair: 43 inches high x 35 inches wide x 37 inches deep.
This stylish Renu leather power recliner is a comfortable and convenient wall hugger recliner with lift, recline and sit functionality, and an easy to use wired controller. The recliner has comfortable cushions that are filled with high-density foam and have independent pocket coils to ensure maximum durability and comfort.
The recliner can accommodate users weighing up to 300lbs, and is nicely padded with good back support, ample armrests, and a footrest. The chair is a luxurious brown color and the REnu leather is durable and breathable and has an appealing top grain leather-like appearance.
The tilt and lift feature of this chair makes it the perfect choice for older users or those with injuries who struggle to get out of regular chairs or to get up from sofas. Since this is a wall hugger, it can be used even in a bedroom or a small living room. As long as there are four inches worth of space behind the chair, the recline feature can be used.
Durable and Easy to Use
This robust and durable chair is easy to set up. It will need some assembly after delivery, however getting the chair up and running takes less than ten minutes. The strong spring mechanism and the wired controller ensure that the chair will work well for a long time to come. There is no remote to lose, no batteries to change, and no annoying levers to find. The wired controller is easy to use, and even those with poor eyesight or Parkinsons find it easy to operate. The motor is smooth and quiet when in use.
If there's one issue that people have reported with this chair, it is that the leather is rather slick, which means that in certain positions people may slide up and down it, and it may be hard to get traction to adjust yourself when fully reclined. Whether this will be an issue for any particular user likely depends on the type of clothing they usually wear. The chair is designed for someone of average height and may be a little uncomfortable for taller people.
To use the lift and recline feature you will need to position the chair near a power outlet. There is no battery power for it. However, this is not unusual for recliners of this kind, and it is one of the reasons that it is marketed as a wall-hugger. The cord is long enough that most people should be able to position it close enough to an outlet in their living room or bedroom without issue.
This stylish and durable Renu leather recliner is the perfect way to give seniors back some independence and control. The rise and lower feature allows people to get in and out of the chair with ease, and the recliner can be angled for maximum comfort.
Features
POWER LIFT RECLINER: Sink into the plush cushions of this recliner for ultimate comfort and unmatched style. Lay back or lift-and-tilt to stand–with this chair, you have the freedom to choose
COZY SEATING: Relax on high-resiliency foam cushions in supple polyester, and adjust to infinite comfy positions with one-touch power for the footrest and back, thanks to dual motors
RICH BROWN: The combination of sumptuous chenille-feel upholstery and the sleek truffle palette complements a variety of decor styles. It's a clear winner for lounge seating or movie night
SPACIOUS COMFORT: There's plenty of room to sprawl out on this chair in your living room after a long day. Reclining armchair measures 38.5" W x 40" D x 43" H
ASSEMBLY REQUIRED: Easy-to-follow instructions, hardware, emergency battery backup and power cord included (UL listed). Fits through doorways 30" or wider.Distance between arms: 22.75 inch
Features
THE PACKAGE OF THIS CHAIR WILL BE SENT OUT VIA 2 BOXES BY UPS OR FEDEX. PLS KEEP THIS CHAIR 45CM FAR FROM WALL.
The chair is made of soft and sturdy PU leather,padded with extra thick sponge for back,head and armrest. Electric powered lift mechanism could lift you up smoothly and safely.Very easy to assemble.
All functions are controlled by 2 seperate remotes for your easy use, no need to operate manually.One is for the lift and reclining, back and footrest work together.
The 4 areas of massage focus (leg, tight, lumbar,back) with 5 modes( pulse, press, wave, auto, normal) meet your demand of different massage.Heat function is for the lumbar part.
The carrier do not provide door to door delivery service. Mostly they will deliver the package at the front door, garage ect. It needs to be moved home by yourself.
Features
REDESIGNED & UPGRADED W/ ONE HAND OPERATION REMOTE CONTROLLER, GENTLE YET FIRM MASSAGE ROLLERS, REDUCED AIRBAG PRESSURE FOR ARM & CALF - 4 AUTOMATIC MASSAGE PROGRAMS - 3 MANUAL SPECIFIC TARGETED MASSAGES(KNEADING, TAPPING, COMBO) - 3 LEVELS OF AIRBAG INTENSITY CONTROL - 3 MASSAGE SPEED CONTROL
THREE STAGE ULTRA AUTOMATIC ZERO GRAVITY MULTI-FUNCTION MASSAGE CHAIR: Zero gravity chairs elevate your feet to the same level as your heart, minimizing the strain of gravity on your vertebrae, relieving the discomfort of back pain. Your heart can work less and you can relax more. QUALITY & INNOVATION: From top quality soft grained synthetic leather to enhance your experience to light total weight for easy mobility, the chair is thoughtfully designed with user friendliness in mind.
BUTTLOCK L-TRACKING MASSAGE SYSTEM: The rollers glide from the upper back all the way down under the seat. This new rolling system provides a full body massage. COMPUTERIZED BODY SCANNING: Built-in sensor automatically measure the length of spine and knows where to massage. AIRBAG MASSAGE TECHNOLOGY: Uniquely designed airbags are programmed to inflate/deflate separately which causes the body to twist and stretch on shoulders, lower back, hips, and thighs working simultaneously or individually.
DEEP TISSUE MASSAGE & FULL BODY STRETCHING: Designed to provide detailed, human-like massage throughout the body and the stretching function is also referred to as the "spinal decompression" program. With vigorous air cells pinning your body in place, the chair moves you to a calculated routine, and slowly stretches out the leg and back muscles. BEAUTY HIP MASSAGER: Multiple Air bag for your hip and your waist line which inflates for compression massage to align lower back and pelvis area.
LOWER BACK HEATING: 2 heating pads in lower back area that enhance the massage experience. ARM MASSAGER: Two air bags are carefully located to apply a deep massage to the forearms and wrists. CALF & FOOT MASSAGER: Multiple air bags on sides and back of the legs and feet which inflate for compression massage with bottom spinning roller that apply concentrated pin-point kneading massage. FULL SIZE REMOTE CONTROLLER: Large viewing screen to easily visualize what functions the chair has activated.
Features
Recliner ships in the Catnapper Factory Box and Chair will Require minor Assembly
"DUAL MOTOR" COMFORT FUNCTION - Allows back and ottoman to move separately.
RELIEVES KEY BODY PRESSURE POINTS- Gel infused foam in our lift chairs feel so comfortable you will feel the difference the moment you sit down.
PREMIUM FABRICS- Rich and elegant look brings pride to the homeowners. A medical device we can be proud to display in our living rooms.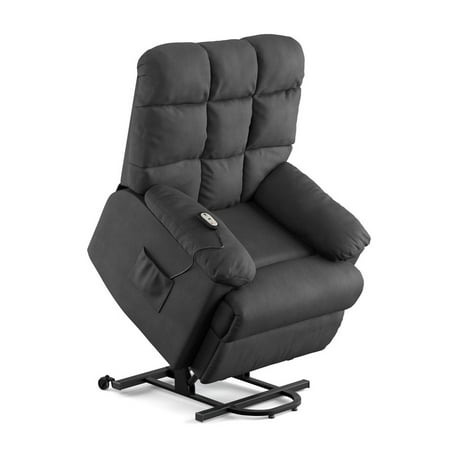 ProLounger Wall Hugger Recliner with Power Lift
as of November 17, 2019 2:21 pm
The ProLounger Power Recliner and Lift Wall Hugger Chair makes getting in and out of your seat a breeze. The ample support means you can sit and recline in luxurious comfort, while the wall-hugging design only requires four inches of clearance from the wall for the chair to recline or lift. The...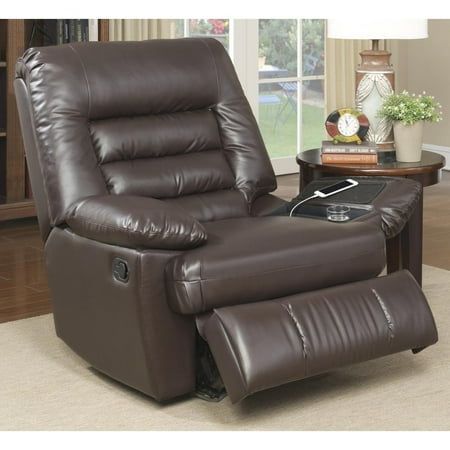 Serta Big & Tall Memory Foam Massage Recliner, Faux Leather, Multiple Color Options
$313.50
$

299.00
out of stock
as of November 17, 2019 2:21 pm
This sophisticated Serta Big & Tall Massage Recliner comes in an elegant espresso color. Featuring bonded leather, it brings a touch of traditional style to your home. This memory foam recliner is generously sized to give you maximum support. A high back construction ensures that your lumbar and...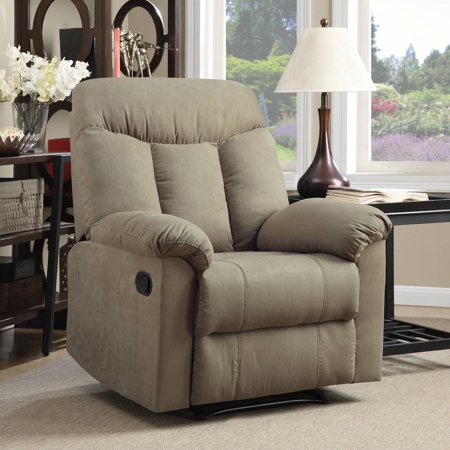 ProLounger Wall Hugger Microfiber Montero Back Recliner Chair, Multiple Colors
as of November 17, 2019 2:21 pm
Update your living room theater or media room with this ProLounger Wall Hugger recliner. Wall hugger design recliner only needs four inches of clearance from the wall to recline and uses less floor space when reclining. Covered in a durable, stain resistant 100 percent polyester microfiber.
Sleeping Recliner Chair Buying Guide
Recliner chairs are popular with senior citizens and those with mobility issues. For someone who struggles to get in and out of a normal chair or bed, a recliner can be a good option. A good recliner chair can be comfortable to sleep in, too, but not everyone should sleep in a recliner.
Talk it over with your doctor before making a switch. And, before you start routinely sleeping in a recliner, you should learn the benefits and downsides of doing so.
What are Sleeping Recliners?
Put simply, sleeping recliners are designed to allow you to place the different parts of the chair in a reclining position. They are usually made from plush materials and are heavily stuffed to make sleep more comfortable.
Why Sleep in a Reclining Chair?
There are many reasons to sleep in a recliner. Many illnesses can make it difficult for you to sleep flat on your back. A recliner chair can allow you to sleep in a different position which will alleviate your symptoms. It is important to remember that good, deep sleep has many health benefits. Sleep is essential for our bodies to be able to function properly.
When sleeping in a bed becomes cumbersome, using a recliner can be the best option to let your body rest and heal. It also allows muscles to relax and gravity makes it easier for fluids to return to your heart. This decreases fluid retention and cardiac stress. People with mobility issues can also get a greater sense of independence from being able to change positions easily.
Of course, it's important to choose the proper recliner. To help you out with this, I listed some of the best sleeping chairs for the elderly at the beginning of this article. An uncomfortable recliner with insufficient support can actually hinder mobility
The Pros And Cons Of Sleeping In A Recliner
A lot of people love to relax in recliners. After all, they are conducive to relaxation and comfort. Being able to rest and lift your legs up can be very comfortable if you are someone that typically stands on your feet all day. Now, you might be wondering whether or not it is good to sleep in a recliner. Below, I'll discuss some of the pros and cons of sleeping in one.
Pros Of Sleeping In A Recliner:
Back Pain. For those that suffer from back pain, sleeping on a recliner might be a good way to limit the pain you are experiencing. The reason a recliner is a good option for those that suffer from back pain has to do with the kind of support that you will get with a recliner. Typically, a recliner is going to offer greater support than what you would be able to get from a regular bed.
Sleep Apnea. If you are someone that suffers from sleep apnea, you might find it beneficial to sleep on a recliner simply because it forces you to sleep in a position where your airways are much more open.
Pregnant. Another good reason to consider sleeping in a recliner would be if you are pregnant. Sleeping in a traditional bed can be difficult while pregnant if you are not used to sleeping on your back. By sleeping in a recliner, it forces you to sleep on your back and it provides a lot more support.
Cons Of Sleeping In A Recliner:
Positional Flexibility. The primary con associated with sleeping in one of these chairs is the inability to move around and to choose your optimal sleeping position. You are pretty much going to be stuck in a specific sleeping position no matter what.
Lower Back Pain. While it can be good for your back pain if you are suffering from a lack of support and your recliner offers it, this type of sleeping can be disastrous for your back pain if your chair doesn't offer optimal support.
As you can see, there are pros and cons that can sway either way largely depending on the quality of recliner you end up getting. With proper support, you can sleep in a recliner comfortably and safely here and there. However, if your recliner doesn't offer the proper support or comfort, it could contribute to poor sleep and even back or joint pain, as a result.
Types of Sleeping Recliners
Once you decide to buy a recliner, you'll be able to find many options available. It's easy to feel overwhelmed by the huge variety of recliners and different features. You might even find it complicated to settle on the right one. Keep in mind that there are different types of recliners, and they all have their own advantages:
Manual vs electric mechanisms: like their name suggests, you'll have to change the position of a manual recliner, well, manually. Electric powered recliners come with a motor which does all the work for you –but of course, they're usually pricier.
Rockers: some recliners allow for a soft rocking motion that users might find soothing.
Wall huggers: these chairs can be placed near a wall and still fully recline. This makes them ideal if you have a limited amount of space.
Lift chairs: these recliners have a mechanism at their base that pushes this portion of the chair up to allow the user to get up from the seat.These chairs are usually among the best sleeping chairs for the elderly. You can read my lift chair recommendations by clicking here.
Massage recliners: these are usually the priciest recliners in the market, and they incorporate rollers or vibration mechanisms that can massage your back and legs. Many of these recliners also feature heating pads.
Features to Look For in a Sleeping Recliner:
Comfort: look for plush materials and a heavily stuffed design to maximize comfort.
Manual vs. electric recline: this decision will depend on your budget and the needs of the person who will use the chair. An electric chair will be pricier, but it will make it much easier for an elderly or disabled person to change positions.
Lift Option: this is probably the best feature for those with mobility issues. It will allow them to get on their feet safely and give them greater independence.
Weight Limit: keeping the weight of the person who will use the recliner in mind, look for a chair that specifies the amount of weight it is made to hold.
Heat: this feature can be an amazing way to help muscles relax and ease chronic pain. Look for heating pads with adjustable temperature settings.
Vibrating Massager: what could be better than getting a massage any time you want one? Although these recliners tend to be pricier, they are great for sore muscles and will usually last you many years.
Easy to Use: features such as remote controls and battery backups will make it easier for you to use your new sleeping recliner.
Easy to Clean: durable fabrics which are easy to clean will help you prolong the life of your recliner chair and make your day much easier.
Frequently Asked Questions (FAQ):
Are There Health Benefits Of Sleeping In A Recliner?
If you're like most folks, you've been trained to think that getting a good night's sleep should only happen in a bed. However, there are actually times or circumstances where sleeping in a recliner can offer health benefits.(Sources: OnMogul.com – ThriveGlobal.com)
Better Circulation
Admit it. It feels good to put your feet up after a long day. Whether you stand up for a long time or sit at a desk, blood rushes down to your feet and legs. If you can elevate your feet higher than your heart, your lower body gets relief. Also, your heart doesn't have to work as hard.
Relief From Back Pain
This common ailment hits everyone sooner or later. Your core and back muscles struggle all the time to balance your lower body with your upper one. Reclining takes pressure off your spine. It's a chance for your core muscles to take a badly needed break. Sleeping in a recliner actually gives them a chance to recover and grow stronger. Who would have thought that time in a recliner could make you stronger?
Deeper Breathing
Some people suffer from sleep apnea. That can be a result of obesity or just sleeping on flat surfaces. A recliner helps your body avoid tissues putting pressure and even restrictions on airways, since you'll always be at an angle.
Stress Reduction
This might be the biggest and best one. Stress never does any good. It poisons everything that it touches, including other health issues. Recliners are the opposite, since they're just comfortable. Not only that, you can adjust them for perfect sleeping positions. That helps you avoid tossing and turning and constantly fluffing your pillows. Recliners might actually be better places to sleep than your own bed!
Do any of these sound like something you need? Try a recliner out to see what it can do for you.
Are There Dangers of Sleeping in a Recliner Chair?
Harvard Women's Health Watch notes that sleeping upright for long periods could increase your risk of deep vein thrombosis. This is a condition caused by blood clots in the limbs and can occur if you spend a long time in a cramped position, without moving. Most recliners will allow you to get into a comfortable position with the body slightly tilted, so this should not be a concern.
Sleeping in a tilted position in an overly padded chair, with your legs flat, could put undue pressure on your spine. You can reduce this though if you use the footrest of the recliner and elevate your legs slightly. By raising the legs you improve the alignment of the spine. This means that a good recliner, properly set up, could actually be a better choice than an overly soft bed.
Some recliners have a PVC/faux leather outer, which may be quite slippy. If you plan to sleep in a recliner, choose one with fabric coverings instead to ensure that you do not slip or fall out of it.
If you are recovering from an operation or have a specific health condition, be sure to discuss your sleeping arrangements with your doctor. They will be able to advise you if there is anything specific that you should be worried about, or any special support your neck or back may need.
Is Sleeping In A Recliner Is Bad For Your Back?
Is sleeping in a recliner bad for your back? If you suffer from back pain, you'll likely do anything to get some relief. Since you probably feel better when you spend time sitting in a recliner, you are probably thinking about spending the night in one. Keep reading to learn the pros and cons of this. (source: Healthy Living News – WebMD)
The Upside
Recliners aren't complicated. They help you relieve your back pressure and weight by distributing more broadly than a normal chair. On top of this, your spinal cord gets rest, which a regular chair won't ever do. When you sit, there's tension in your spine and contraction in your lower back muscles. Sit that way long enough, and lower back stress turns into back pain.
Recliner chairs also help since they elevate your legs. That reduces the stress on the spinal cord. Also, elevated legs improve circulation, minimizing inflammation everywhere your body.
The Downside
Sleeping too long in a recliner might result in contractures of the knees and hips. This is when muscles tighten up over their joints, which will limit upright walking and posture. Both of those will negatively impact your back over time, as well as risk your chances of falls due to an improper center of gravity.
Finding The Right Recliner
What you need is good lumbar support. That means there's no gap between the chair and your lower back if you put up your legs. Your lower back needs support in all positions so you can relax fully. If any gap forms around the middle of the recliner as you put up your feet, then your body sinks down and you slouch. That will strain the muscles and ligaments of your low back.
Is sleeping in a recliner actually bad for your back? Obviously, there are benefits and risks alike. Finding the right lumbar support is what tilts the odds in your favor though.
Will Medicare Pay For A Sleep Chair?
I work with Medicare every day at the home medical equipment store where I work, And, unfortunately, no, Medicare will not pay for a sleep chair. They do not consider an item like this medically necessary. For people who have trouble moving around in bed, they will buy a hospital bed for home use if the beneficiary meets certain criteria.
Can You Really Buy a Sleeping Recliner Online?
Of course! Most sleeping recliners offer free shipping. In regards to assembly, many sellers offer a White Glove delivery for an additional fee; if you use this service, the chair will be delivered to you by someone qualified to install it in the place of your preference.
How to Clean and Care for a Sleeping Chair
Making sure your sleeping chair is clean and well cared for will ensure that it will be in top shape for many years. After all, recliner chairs usually represent an important expense, and taking proper care of it will maximize the benefits of your investment.
First of all, you should be aware of the materials your sleeping recliner is made from. The upholstery on your recliner can be made of leather, faux leather, cloth, microfiber, amongst other types of fabric. Keeping this in mind, look for a cleaning agent that is specifically made to clean the material your chair is made of.
Clean your recliner chair with the appropriate products at least once a week. Make sure you are vigorous enough to really clean the chair, but not so rough on the fabric that you damage it. You can also vacuum your chair before or after cleaning it to get rid of any small bits that might get lost between the folds of the chair. You should also make sure that sharp objects don't come anywhere near your chair since they can puncture the upholstery and leave nasty holes that will be difficult to repair.
Summary And Final Recommendations
This guide will hopefully help you choose the perfect recliner for you or your loved one. These are some of the best sleeping chairs for the elderly on the market, but there are many more options out there.
Keep looking until you find your perfect fit! Now you know which features you should keep in mind when shopping, and how each one can help you or your loved one get better and more comfortable sleep.
In my opinion, Relaxonchair when it comes to a great price-quality relationship. It is well made, sturdy, comfortable, and comes with many additional features that will make it feel like you have a spa in the comfort of your own home!
Have you tried sleeping in a recliner chair? What tips and advice do you have? Please share in the comments below! Also, please share this on your favorite socials if you found it helpful!