Today's advanced – and complicated – cell phones and smartphones have many features that enrich our lives. But, are they a good choice for seniors with dementia or Alzheimer's? Probably not.
Seniors and elderly people who struggle with memory issues will find these new phones hard to use. Many will refuse to use them at all.
The best solution is to find an easy to use cell phone for dementia patients. You want them to understand how to use it especially if they need to call for help. The last thing you want is for them to be intimidated by a device that can be such a big help!
So, here are the best cell phones for seniors with dementia that should help you out with theis problem.
Reviews: Dementia-Friendly Cell Phones
Different phones come with a variety of features. But the primary objective of these phones is to make sure that seniors with dementia can use them easily. They don't have complicated functions to confuse the user.
Here are a few cells phones appropriate for seniors with dementia:
Jitterbug Smart Phone by GreatCalll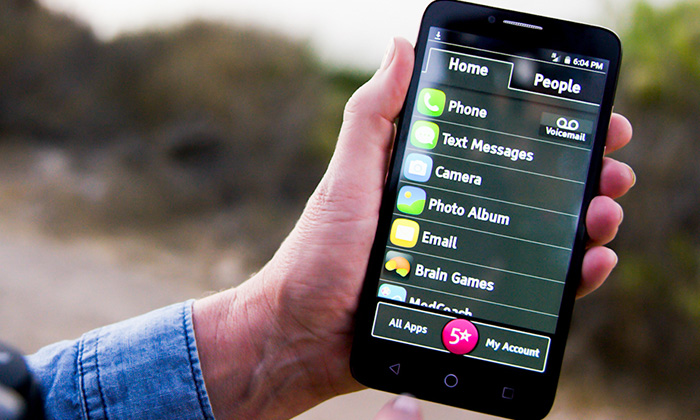 Click Here for 50% off all GreatCall Products
Many seniors who love touch-screen phones will find this model useful. They don't have to use the traditional keypad anymore. This 5.5-inch cell phone will fit in their hands easily. Plus, it is extremely lightweight.
Most importantly, the simple menu is so well-organized that no senior with dementia will have difficulty understanding the functions. The phone's display is big enough to show letters and numbers significantly bigger. Once your loved one understands the functions of the phone, they will be able to make and receive calls without requiring help.
Jitterbug Flip Phone by GreatCall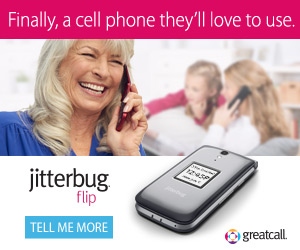 Click Here for 50% off all GreatCall Products
This phone is ideal for seniors with dementia who don't want too many complicated functions. It has simple Yes and No options so that the user can follow the on-screen instructions easily. The phone has a power speaker that allows your loved one to hear your voice from a distance. Plus, the bigger fonts and numbers make it easier for your loved one to dial. All they have to do is press the menu button and follow the instructions that come on the screen. They need to press the Yes or No button accordingly.
This phone looks like a calculator. But don't go by its looks because the features are far better than its competitors. It has a keypad lock side switch that prevents accidental falls. Seniors with dementia may end up calling the same person over and over again. The keypad lock will prevent that from happening. Another useful feature is the speaking keypad. Your loved one will not have to remember any instruction on the phone. They just have to listen to what the keypad says and follow them accordingly. The phone can also dial automatically on the behalf of the user.
If you are one of those who want to present a sleek and stylish phone to your parent suffering from dementia, this is the model to buy. This phone has everything you can ask for someone who has dementia. Your loved one may want to use the camera, listen to some of his/her favorite songs, and even watch movies. But the most important function is to get in touch with the emergency contact whenever there is urgency. Thanks to the built-in GPS, you can check on your loved one in a flash.
This cell phone is a good option for people looking for a more budget friendly option. Whether it is your loved one at home or someone you know in your extended, this model provides a combination of various essential features that seniors can benefit from. For example, the larger fonts and bigger buttons will help them track the numbers easily. Plus it has the flip feature. Your loved one can just flip the phone after the call and keep it in his/her pocket.
Recommended Features: How I Chose These Models
Here are some specific features and options you should look for when shopping for celll phones for dementia patients.
Simple Functions That Are Easy to Understand
It is somewhat obvious, but you want to choose a phone that is easy to understand and use. You want a phone with minimal options that don't require navigating menus to access. Quick, one-touch functions buttons are best.
Big Buttons That Are Easy to Read
Look for big buttons with bold, well contrasted print. Not just the number buttons – all the buttons should be clearly labeled and easy to read
Long Battery Life Between Charges
Let's face it. This population may forget to charge the phone often. So, get one with a long standby time. That way, it will hopefully be ready to go in the event of an emergency.
One-Touch SOS Emergency Button
I really recommend phones with one-touch speed dialing for quick calls during emergencies. Even better if it's red or labeled SOS!
Bright, Clear Screen That is Easy to See
The digital screen should be brightly backlit with big, bold print so that it can be read easily – during the day and the night.
Summary and Final Recommendations
As you can see, there are several good cell phone options out there for seniors with dementia. Just look for one that is easy to use with large buttons that can be easily read. Think about emergency situations too. You want your loved one to have quick access to help if there has been a fall or a medical problem.
Do you know of other cell phones that are good for seniors with dementia? Let me know about them in the comments below.