Believe it or not, the simple act of getting something to eat can often wear out the elderly and disabled.
This is why microwave ovens are a huge help to the elderly and seniors. Microwaves also improve kitchen safety for seniors, especially the ones who live alone.
But which is the best microwave for seniors to use?
How do you know if a microwave will be simple for elderly people to use?
Spoiler alert: "old-fashioned" microwaves with dials and microwaves with knobs are often the easiest for seniors to use!
Video Blog: Simple Microwaves for Seniors that Are Easy to Use
This video summarizes all the information in this post or keep on reading to get all the details!
Detailed Reviews of The Best Microwave Ovens for Seniors and the Elderly
Here are reviews of a few microwaves that I recommend for seniors and the elderly. These reviews are based on my experience working with disabled seniors and caring for my own grandmother.
Features
0. 7-Cu. Ft. Microwave oven for countertop use
Compact footprint makes this ideal for small spaces
700 watts of power with 7 power levels
Stylish towel bar door handle
Dual rotary dials complete the retro look
This is the best budget microwave for seniors. Most people looking for a new microwave would consider this one "cheap" because it isn't loaded up with features or covered in buttons. It is just a plain, simple, basic microwave. But it does look kinda cool and comes in several colors.
Simple, Easy to Read Controls
This truly is an easy to use microwave oven. It uses just two very basic rotary dials: one sets power and the other is a timer. That's it. Just set the temperature and time and it is ready to go! The dials are also large enough to make them easy to grasp and turn. There are also only 6 temperature settings to choose from.
This microwave's dial controls could be easier to read though.
Large Enough for a Dinner Plate
The 0.7 cubic feet interior of this microwave is large enough to hold a plate full of reheats and meal preparation. It measures almost 7.25″ high by 11.25″ wide and 9.75″ deep inside.
Easy to Open
This microwave has a large handle with a grippy surface that is easier to grasp and pull. Opening the door of this microwave should be simple for most any senior.
Loud Ding
The indicator of this microwave uses a loud, physical ding sound that should be easy for most seniors to hear.
Inexpensive to Buy
This is one is a really inexpensive microwave with basic dials but it is also one of my favorites and a top recommendation. However, because of the price, it doesn't have higher-end features like auto shut-off. So, it is possible for a confused senior to overcook because the user can turn the dial over to 30 minutes and forget about it.
My Top Pick!
I highly recommend this simple microwave for elderly people who just want a low maintenance, easy to clean, and easy to use appliance. This one is definitely no frills but it is very straightforward and easy to use. Just make sure the user understands how to set the dial to the proper time. The only problem with this one is that a senior with dementia who can't set the time properly.
---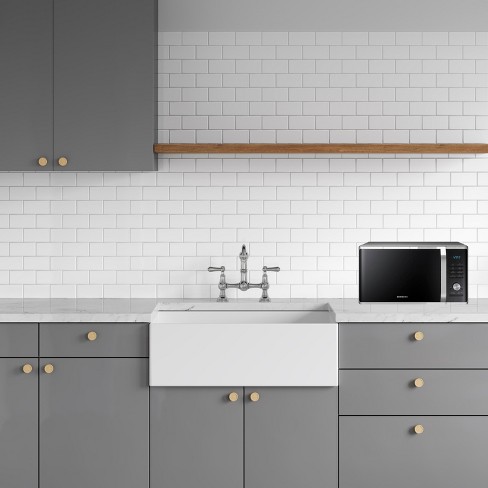 Samsung 1.1 cu ft 1000W Microwave Oven - MS11K3000A
$33.00 | Target.com
Target.com
as of January 24, 2020 10:22 am
This is the cheapest microwave with an auto-shutoff sensor. I thought this microwave was going to have a lot of potential for seniors because it is one of the least expensive microwaves that has a sensor option. The sensor monitors the vapor in the unit and adjusts the cook time as needed. This can help prevent burning and overcooking.
However, the sensor controls seem difficult to use. I don't think many elderly people will understand how to set the time on this. For example, it does not have a standard timer and requires multiple steps just to cook a frozen dinner.
Some Good Things:
The interior size is just large enough to hold a plate for easy, quick reheats.
The large handle is easy to pull and open. Most seniors will have no problem opening the door of this microwave.
When done, the "ding" isn't very loud but it does sound again every 30 seconds if not opened.
Does offer sensor cooking to prevent overcooking but the controls are too difficult to understand for most seniors.
Not the Most Senior Friendly
The controls are difficult to understand and use. Multiple steps are required for even the most basic functions.
Text above the buttons is small and hard to read. Seniors who have low vision will not be able to adequately read the buttons.
I am not recommending this microwave for the elderly or seniors. The controls are too difficult to use and understand. Buttons are also too difficult to read. There are definitely better models to consider for seniors.
**** UPDATE: 12/22/17 – see the comments below for an easier to use microwave that offers auto sensor cooking. ****
---
Features
Fits easily into corners to maximize counter space
Fits A Full Dinner Plate
Add 30 Seconds
Level Variable Cooking Power Control
Control Lock
Not a lot of kitchen space? Take a look at this space-saving model. It is also one of the most unique-looking microwave I have ever seen. And, it is also unique in how it operates. Because it also has a very small footprint, it will fit in the corner of a kitchen which saves a ton of space.
This microwave also has some great features that make it a good choice for elderly and seniors. In addition to being easy to read and operate, it is also programmable. This programming makes it even simpler to use for seniors who may be easily confused.
Easy Controls
The controls on this microwave are operated by push button but they are fairly simple to understand. There is a 30-second button that, with one touch only, heats the food for 30 seconds at high power. This can reduce the chance of burning or getting the food too hot.
There is also a "reheat" button that you can program to run only for a certain time. So, for a senior who primarily uses the microwave to reheat leftovers or delivery meals, you can program this button to run the microwave for the optimal time. Or, you could set it to run for half the time, have them stir the items, put the food back in, and hit the reheat button again to complete. This option gives you several choices to make this microwave work well for the senior in your life.
The buttons themselves are white block print on a black background. This is the opposite of what I usually recommend but the print is big enough that it should be ok unless the senior has significant vision problems.
Large Enough
This microwave easily holds a full-size plate with an 11-1/2″ square internal measurement.
Opening the Microwave Door
There is no latch on the door meaning there is no handle to pull or button to press. The door is opened by putting your fingers in the recess in the side of the door and pulling it open that way. This may be difficult for severe arthritic fingers.
DING!
The time indicator does have a fairly loud ding to let you know the food is ready. It does only sound once though so it is possible it could be forgotten.
Here is a quick video review by a user:
I really like the simplicity of this microwave for the senior population. While it does have a few more buttons than I normally recommend, I love that the reheat button can be programmed for safety. Then the user can be trained to use that button for reheats!
There is even a lock-out setting to prevent the microwave from being reprogrammed. A feature like this makes it difficult for seniors to overheat or burn their food. Of course, it is always possible but much less likely with this one. There is even a lock-out setting to prevent the microwave from being reprogrammed.
---
Features
SIMPLE TO OPERATE: The classic dial timer can be set anywhere from 15 seconds to 6 minutes and includes bright LED indicators that permits "at-a-glace" monitoring.
SPACIOUS INTERIOR: The 0.8 cu. ft. capacity can accommodate a 12'' platter, prepackaged foods, and single servings.
SEE-THROUGH DOOR: The see-through door and lighted interior allow for monitoring without opening the door.Hertz:60 Hz
EASY TO MAINTAIN: Stainless steel exterior wrap and interior for easy cleaning and a commercial look.
WARRANTY: Amana Commercial Products warrants this product only when original purchaser uses the oven for commercial food service preparation.
This is the simplest, best microwave with dials. If simple is what you are looking for, then simple is what you get with this microwave oven! To control this microwave, all you need to do is turn a dial to set the time. That is it! No other buttons! No other knobs! This could be a great microwave for dementia patients too.
However, this microwave is a commercial grade microwave so you will pay a little more for it than some of the others. But it is a quality item that should offer a safe microwave experience for you or your loved one.
Operating the Controls
This microwave is extremely simple to use. Extremely simple to use. Simply turn the dial on the microwave to set the timer (from 15 sec to 6 min). That's it! As long as the user understands the differences in these times, it will work very well for seniors. For people who may get the times confused, you could mark the proper time next to the microwave knob with a piece of tape and train them to only use that setting.
The lettering on the dial is high-contrast white on black with bold, block print. This makes the writing very easy to read for most seniors unless they have very poor vision.
Large Enough for Dinner Reheats
Easily accommodates a 12″ plate for quick and easy reheats.
Easy Open Door
This door opens with a pull style handle on the front. It only requires a light pull to get it open too so it should be easy for most seniors.
DING!
Like most of my other recommendations, this one lets you know it is done with a loud bell ding. But it does only sound once.
Keep in mind, the simplicity of these controls means a lack of options. There are no adjustments for power levels or temperature. There is also no auto shut-off sensor. I would like to see this option on a microwave in this price range. If it had a sensor, this would be the simplest and safest microwave.
This is a great choice for seniors with dementia or Alzheimer's. All they need to understand is how to set the cooking time. There are no other features or buttons to confuse them!
It is almost foolproof.
---
Features
Stainless steel exterior, Interior and door.
Touch controls with 20 memories (10 pre-programmed).
Express defrost responds quickly with easy, last-minute defrosting.
1000 watts with a design made to stand up to regular medium duty commercial use.
Unit dimensions: 20 1/2"W x 12 1/8"H x 16"D.
This is the best programmable microwave for seniors and may be the simplest microwave for dementia patients or forgetful seniors. Here's why: this microwave has buttons that can be programmed for use with certain foods! For example, a reheat button can be established to run for 1 minute at full power. While this feature is designed for restaurant use, it also has benefits for elderly and seniors.
Customized Programmable Controls
The controls would be easy for a senior after being programmed. Initially, someone would probably need to help with the initial set-up to make this simple to use. There is no end to the different programs you could create.
A setting could be set for soup, or frozen pizza, or frozen meals. Another could be set for reheating their morning coffee. This setting can be written right on the label on the microwave. Then, the user can press the button for the type of food. Of course, in most instances, the programming would have to be done by someone with some tech-savvy.
Programmable buttons like these have lots of uses seniors with dementia. So, this could be an exception to my "only buy microwaves with knobs" rule.
While the basic writing on the front panel is small, the labels for the program button are big enough for large print. A senior could read these labels pretty easily.
Holds a Full Dinner Plate
This one has one of the larger interiors. It is big enough to hold a dinner plate with room to spare.
Easy Pull Handle
It is easy enough for most seniors to open the microwave without much effort.
Loud Bell
A loud bell sounds when the cycle is complete.
Costs More than Others
This is a restaurant grade product so it does cost more than your typical counter top microwave. But, it has unique features like the programmable buttons that may make the price tag worth it.
For those who have the budget for a high-end solution, this microwave could be the simplest for an elderly or senior person to use. It would probably require someone to program and set it up. Then, the senior could use it quite easily. These program options make it the best microwave for dementia patients or seniors who are easily confused by technology.
Check out this video highlighting the features of the Sharp 15-0429:
---
Why are Microwave Ovens Safer for Seniors Than Regular Ovens?
Sometimes a regular oven is just no longer safe for some seniors. This can be both embarrassing and frustrating for the senior involved. Being able to feed oneself is a basic human desire and need.
Even after changing to other options like lighter weight pots and pans. It is not at all uncommon for me to hear stories of my patients burning food because they fell asleep. Or forgetting to turn the oven off after use. I have also heard of seniors catching a dish rag on fire because it was too close to the stove top.
Making a loved one unplug an appliance they have used for years can cause hurt feelings and embarrassment.
So, why not give them an alternative like a microwave oven?
A microwave oven has a huge impact on kitchen safety for the elderly and seniors. That way, they can still take care of their own food needs and not feel like a burden. Giving an item like this as a gift for a holiday or birthday is a great way to introduce it without seeming intrusive.
If a microwave seems too difficult, some seniors may do better with an electric cooker that has fewer settings. Check out this option here.
Benefits of a Microwave
Good nutrition and regular meals are very important for the overall health of older people. Microwave ovens offer the elderly and seniors an easy way to prepare their own food and snacks.
They are even a great choice for pre-cooking foods for seniors who need to puree their food. Especially ones who are still somewhat independent and live alone. Cans of food can be opened easily and heated up quickly for safe meals.
Choosing the right microwave will also help the elderly fix their meals more safely. They are much less likely to burn their food in a microwave. Fires, while possible, are also not as likely to happen with a microwave. Choosing a good, safe microwave oven for the senior in your life will bring peace of mind.
---
Buying Guide: Simple, Easy to Use Microwaves for Elderly Seniors
The best microwave oven for seniors is one that is simple to use, safe to operate, and easy to clean. But what exactly makes a microwave oven simple?
Here are some important features to consider that impact how easy a microwave is to use.
Easy to Understand Controls
For a senior to safely use a microwave it must have simple, easy to use controls. This is important so that they do not feel intimidated by the controls. Working with too many buttons, options, and controls is often just plain confusing.
This is especially true for a senior with dementia or Alzheimer's. While many of us appreciate extra features and options, so many buttons and options aren't usually a good thing for elderly people and seniors.
Very basic microwaves with dials are often the best choice for seniors. A microwave with dial control should have knobs that turn easily. And, the larger the knob, the better. If buttons are the only option, find one with the fewest amount of buttons to help keep down confusion.
So it is best to avoid microwaves with lots of buttons and features. Usually, these will just lead to confusion and frustration. And the senior or elderly person will probably refuse to use it. This is why I recommend dial microwaves. Those microwaves with turn knobs are easy for most seniors to understand. Many seniors are already used to using this style too.
Easy to Read Buttons and Controls
It is important that seniors can read the printing on all of the buttons or dials. This is especially true for seniors with vision problems. You do not want them to mistake 10:00 for 1:00. This can lead to all kinds of issues like burns, injuries, and smelly burnt food.
Look for large, easy to read print with lots of contrast. Big, bold black block print on a white background seems to be the easiest to read for most seniors.
Avoid small writing on dark glossy surfaces. This type of writing is generally hard to see for many seniors. The glare from a dark glossy surface makes it worse. It will usually lead to the wrong use of the microwave. Or they may not use it at all if they can't read the buttons.
Size of the Microwave
A huge microwave is not necessary for most elderly and seniors. But I recommend it be at least big enough to hold a dinner plate. Something at least 10″ wide by 10″ deep inside measurements should be sufficient.
Release Handle
Many microwaves today have those push button latches to open the doors. Some of these can be difficult to push, so make sure it is easy to push especially for arthritic hands. The old pull handle microwaves are probably the best option if you can find one. Pull strength is sometimes easier for seniors than pushing with fragile fingers
Auto Shut-Off Sensor
Auto shut-off sensors are a great feature for seniors but they are usually only found in the more expensive microwaves. These microwaves sense when the food is done and then shut off automatically. This can prevent burning which causes a mess, bad smells, and even a little embarrassment.
Loud Ding!
Make sure the senior can hear the sound letting them know that the food is ready. This can help with more forgetful seniors. Microwaves that continue to sound until the door is opened are also a great feature to have.
How to Make an Existing Microwave Simpler for Seniors
If the elderly person has a microwave that they like but they are confused by the buttons, here is a tip. Cover the unneeded buttons up with black electrical tape! Maybe then the senior will forget about them!
Conclusion and Recommendations
Each of these microwave ovens offers seniors and the elderly varying levels of ease and safety. Choose the best microwave for the senior in your life by evaluating their current abilities but don't forget to consider their future needs too. Usually, though, microwaves with turn knobs and dial controls will be the simplest microwaves to use.
Think about how they will physically eat also. For seniors who have difficulty feeding themselves, there are special utensils and even plates with raised edges that are helpful.
Remember that there are other steps in cooking that seniors and elderly may need help with. For example, with arthritis, opening cans and jars are often painful. But, there is a wide range of tools to make opening cans easier and opening jars less painful. Another item to consider is an easy to use coffee maker or even an easy to use toaster too.
For a truly simple microwave for elderly and seniors, go with the Amana microwave oven above. It has a simple, one dial operation and is one of the best dial microwaves on the market. Most any senior will understand and use it without much difficulty.
Do you know of a different product that has worked for you? How about any experiences with a senior using a microwave that you would like to share? Funny stories and recommendations are welcome!  Leave a comment below.
Other Guides You'll Want to Read