With birthdays, holidays, and other special occasions, finding a nice gift for dementia patients can be a challenge.
When it comes to buying gifts for people with dementia, you have to get creative because standard gifts may not mean nearly as much. People who live in assisted care facilities might not have room for larger gifts.
Even smaller trinkets can end up cluttering the home which could make the symptoms of advanced dementia worse.
General Gift Advice for Seniors With Dementia
Here are a few general comments and ideas for buying a gift for someone with dementia:
Sentimental value is important. There is a lot of value from homemade or family based items.
Sensory gifts that embody a favorite smell.
Memory based gifts that are practical. Put together memory boxes with a collection of items meant to stimulate memories like tools, perfume, teddy bears, photos, or other items of significance.
Smaller gifts can be handmade. For example, calendars with favorite family photos meant to remind loved ones of their friends or family. Mugs with a favorite photo from something like a wedding help patients reminisce about the good old days.
Great Gift Ideas for Dementia Patients
Here are some specific gift ideas to help you with your gift buying:
Dynotag SuperAlert ID Tags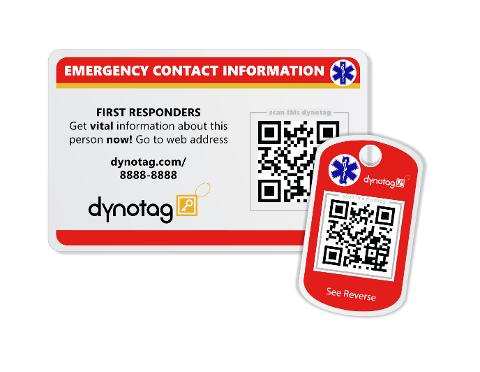 It's important that first responders have access to a patient's medical history when responding to an emergency. With this smart medical ID, responders can easily access a patient's full medical profile. These tags are ideal for seniors with dementia that want to stay safe. Because these tags are so small and lightweight, you can make sure you always have yours with you. You can store your card in your wallet or on a keychain.
Every card has its own unique key code and number, which means your sensitive information will be completely protected. But, you don't need to be tech-savvy to take advantage of these cards! You'll be able to create a full medical report in a matter of minutes, and you can update that report any time that you need to.
When someone is providing you with emergency medical care, there isn't any time to waste. With these tags, professionals will be able to access your medical history in an instant. Once you set up a profile, you'll have access to it for the rest of your life! Your tags will also come with a limited replacement warranty.
---
Magnetic Dry Erase Whiteboard Sheet for Kitchen Fridge
Magnetic dry erase boards can help during the early stages of dementia. The goal during the early stages of dementia is to aid in memory with things like notes and reminders. Put one in each room so that there is always a reminder or a space for notes, when needed.
This magnetic dry erase board has multiple uses: write down grocery items, appointments, upcoming birthdays, etc. It comes with and eraser and multiple colored markers plus the whole thing sticks right to the refrigerator.
If you opt for the dry erase boards, work with the patient to clear away space for them to hang in each room and make sure the location you decide to hang them is practical, and somewhat the same in each room.
---
Creative Hobbies Magnetic Memo Note Pads
During the early stages of dementia, magnetic reminder pads for the fridge can ease the frustration of memory loss. With this kit you get a pack of 12 reminder pads, one for each month. This themed set means you can coordinate reminders based on the time of year.
There are magnetic strips on the back of each pad so they will stick to the fridge, a metal filing cabinet, etc…Be sure to include a pack of pens and a magnetic container to hold them so that there is always one nearby.

---
Memory Day Clock 2.0 with Custom Alarms and Calendar Reminders

During the early stages of dementia, it is best to help patients remember the date and time. A large clock with the date and time can help with everyday tasks. These are easy to see and help keep track of the day and date. LED numbers make it easy to see from across the room. There is also an auto-dimming feature that helps to eliminate any confusion over day/night.
For dementia patients, this gift can reduce any worry over missing appointments or not knowing what day of the week it is. If you invest in this gift, consider replacing an outdated clock with it, so that there is less confusion. Perhaps invest in more than one for multiple rooms in the home.
RELATED GUIDE: Electronic Calendar Clocks for Seniors
---
me & my BIG ideas Boxed Album Kit

Another great idea is to keep dementia patients engaged with an activity like scrapbooking. This starter kit focuses on the theme of "family" but, of course, there are many other sets, stickers, and supplies you can add as time goes on.
Creative kits like this can be something a patient does with their caregiver, when their family visits, or just in their spare time. They can turn to completed scrapbooks for practice with recall by looking over pictures with family or friends and names below. Important dates, events, and people can be integrated into a scrapbook too.
---
NTBAY 100% Cotton Cable Knit Throw Blanket
Large, soft quilts in the patient's favorite color, for example, can not only be comfortable but can keep the senior warm during the winter months. Make sure the item is something they do not already have and something they have room for. If they already have soft blankets, modify the gift slightly by giving a scarf or bathrobe instead.
---
Film Noir Classic Collection, Vol. 1
In the middle stages of dementia, gifts like movie collections from their favorite era can be not only comforting but also reap positive benefits. Naturally, there are many gift sets out there of movies from various genres and time periods, so try to find something that best suits your dementia patients. Sets of westerns or Marilyn Monroe films aid in memory and calm patients down when they are stressed or anxious.
---
Sun Blues Box / Various Artists
Research indicates that music has positive impacts everyone, including those with dementia. Ten minutes per day of music can reduce stress, anxiety, and encourage creativity.
Music from an era important to the recipient brings them back to positive times in their history, increases their stimulation, and gives them an opportunity to interact with family members. That said, buying a set of hits from their favorite time period like this one is perfect.
RELATED GUIDE: MP3 Music Players for Seniors and the Elderly
---
Match The Shapes Engaging Activity for Dementia and Alzheimer's

This game is specifically designed for those with dementia. I like that it is not childish nor is there any actual mention of "dementia" or "Alzheimer's" on the game itself.
The game consists of 36 brightly colored tiles and colored templates which encourage memory. This game has been tested on individuals with various stages of dementia and is enjoyable and gives them a sense of accomplishment. People with dementia are not children, but might still enjoy games that younger people enjoy. That is why this game is a nice middle ground gift.
---
Lavender Lover's Spa Gift Set
During the middle to late stages, sensory stimulation gifts play an integral role. Stimulating the main senses can stir pleasant memories. That is why gifts like scented lotions are great.
This particular set is a lavender based lotion set with scented lotion, soap, oils, and candles. If this scent does not work for the recipient, pick one that they love.
RELATED GUIDE: Best Lotion for Elderly Skin
---
Sony DVPSR210P DVD Player
As you reach more advanced stages, gifts like a DVR can be wonderful. With a DVR you can help your friend or family member record the shows or programs they might not be able to watch during the day. This can be a great way for them to replay favorite shows or documentaries.
My Top Picks
Overall, picking gifts for dementia patients can be difficult, but not impossible. Try to find something that is useful and appreciated. Get creative. If you can incorporate elements from their past, it is best to do so. My personal favorites are the Magnetic Reminder Pads, the Memory Loss Calendar Clock, and the Shapes Game.
Almost all of the items above can be personalized. For example, sensory gifts can be modified by including their favorite scent or a scent from their childhood. Music and movie gifts can be personalized to include a list of their favorite artists or actors. Soft blankets can be purchased in their favorite color, or a color which matches their existing furniture or clothing items. With things like dry erase boards, you can easily include photos you pin to the corners of their family or friends, even a photo of themselves when they were younger.
Do you have other gift ideas for dementia patients that you recommend? Tell me about them in the comments below!