The signs of early dementia are pretty common.
Your loved one forgets where he/she put their keys or glasses, cannot recognize people in family photos, and similar other things.
If you have a member in your house who has dementia, you should think before buying gifts for them this season. Try to choose gifts that will help them jog back their memories.
11 Ideal Gifts for Someone with Early Dementia
Here are a few that I personally recommend.
Dynotag SuperAlert ID Tags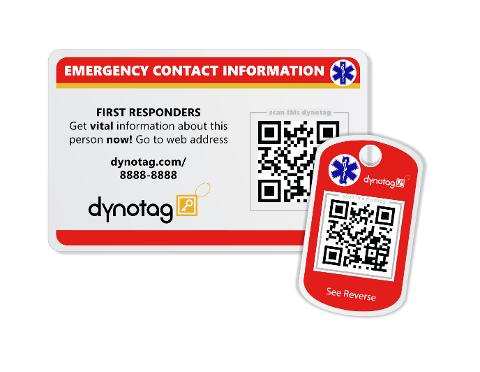 DynoTag's web-based smart tags allow people to carry their medical history with them wherever they go. These cards can keep track of essential information, such as:
Insurance information
Doctor contact information
Medications you are taking
Chronic conditions
Allergies
Procedural consent documents
Responders will be able to access this information digitally, even if you are unconscious. Your information will be fully secure, and it can be updated at any time.
DynoTag offers a variety of medical ID tags, including ID pendants, charm bracelets, and keychain mini tags. This mean seniors will be able to find a solution that meets their needs and their lifestyle.
Seniors with dementia are more likely to need emergency care, which is why is so crucial for people to have the information they need in an emergency. With DynoTag, it will be easy to store your medical information online. The care providers treating you will be able to access this information in a matter of seconds, allowing them to provide you with the care that you need.
Receiving the appropriate care during an emergency can be the difference between life and death. These affordably-priced medical ID tags are a very smart investment. They're something every one with dementia should be carrying around.
---
NIX Advance 8-Inch Digital Photo Frame
As already mentioned, the first signs of dementia will include forgetting the names of family members. So, the best way to constantly remind your loved one about everyone is gifting a photo album with a family tree. You can buy a digital photo frame along with a memory card. Make sure you save a lot of photos so that when the slideshow starts, he/she can look at similar images and recognize the faces and names. By the way, it's better to mention the names of the people in the picture. So, edit accordingly.
---
TimerCap Bottle Cap Medication Reminder Lids
This is another issue that you will face if you live with someone who has dementia. He/she will forget if they had regular medicines. If they don't take medicines on time, their condition will deteriorate. Don't let that happen. Gift them a pill organizer that comes with a reminder alarm. Some of these models also mention the day of the week. So you don't have to separate the pills. The alarm will go off whenever it is time to have medicines.
RELATED GUIDE: Best Automatic Pill Dispensers for the Elderly
---
Tile Mate – Key Finder. Phone Finder. Anything Finder
Experts believe that the early stages of dementia include forgetting pills and several other essential items like keys and glasses. So, a key finder can become a handy gift that you can connect to their mobile phone via Bluetooth. As soon as they can't find their keys, they can look up in their phone so that they can hear a buzz. This will help to locate the keys quickly.
---
Adult Activity Book
This is an incredible way to keep your loved one engaged for hours. Activity books include various things like Sudoku, crossword puzzles, picture games, etc. It's a gift that suits those having early signs of dementia. Some of these books also have names of countries along with their capitals. He/she will have to match the names of the countries and their respective capitals on every page. It's a test to understand the number of names and capitals he/she remembers.
---
Atomic Digital Wall Clock
People with early dementia also forget the time now and then. You will often see your family member asking the time frequently because he/she forgot about it in a few minutes. So, a big digital clock can be handy. Keep it in the room where he/she spends most of the time. Whenever he/she wants to know the time, the clock is there to help.
You can also set alarms on the clock for meals. It can help to channel their mind into doing the same thing over and over again so that they become habituated.
RELATED GUIDE: Best Electronic Calendar Clocks for Dementia
---
The Simple Music Player
This is one of the best gifts that you can purchase for anyone with early dementia. Compile a playlist of some of his/her favorite songs. These music players usually support a USB device or memory card. Save plenty of songs so that he/she can enjoy for hours.
The advantage of using this type of music player is the user doesn't have to know a lot of operations. They usually come with a single play and stop button. If they don't want to listen to songs anymore, they can press the stop button. The next time they play, the songs will resume from where they left.
RELATED GUIDE: Best MP3 Players for Seniors
---
Recipe Keepsake Book
If your loved one has dementia but is always fond of cooking, he/she may forget the ingredients of her favorite dish. So, collect all his/her recipes from diaries or journals. You need to write them down in a family recipe book and decorate it with pictures and stickers. Be as creative as you can be. You can also include some of the traditional recipes that he/she can try.
---
DH Beacon: Weighted (4Lbs) Sensory Lap Blanket
Experts believe that sensory lap blankets can help calm the nerves of those who have early dementia. They help to increase melatonin and serotonin levels overnight. This helps them to sleep comfortably for long periods. Those with early-stage dementia often have anxiety attacks. This blanket can calm them down.
---
PRIMETRACKING Personal GPS Tracker
Ideally, it is not wise to leave someone with dementia outside alone. But, if he/she insists, make sure you give them a GPS tracking device. This will not only help them come back home safely, but you can also see their precise location from your mobile phone.
---
Amazon Echo Dot
This is probably what every person with dementia should have. It is one of the most useful gifts that you can pick. Alexa Echo will tell them the time, date, weather forecast, play them their favorite songs, and also remind them to have their medicines. However, you need to program them accordingly.
---
My Top Gift Picks
Although it may seem tough to find gifts for someone with dementia, if you think from their perspective, you will come across enough items. These are some of the gifts I would gift if I had someone with dementia in my family. The pill organizer with reminder alarm and Aexa Echo Dot are gifts that I personally like.
What other gift suggestions do you have for seniors with early dementia? Please tell me about them in the comments below. Please also share this post on social media if you found it helpful!