Choosing gifts for your 65-year old grandfather is a real puzzle.
Like me, if you are not sure what he likes, you may have to try your luck and pray. But, after spending "several" Thanksgiving and Christmas together with my dad and grandpa, I can now suggest a few gifts for a 65 year old man to make your search easier.
Great Gift Ideas for Older Men
Dynotag SuperAlert ID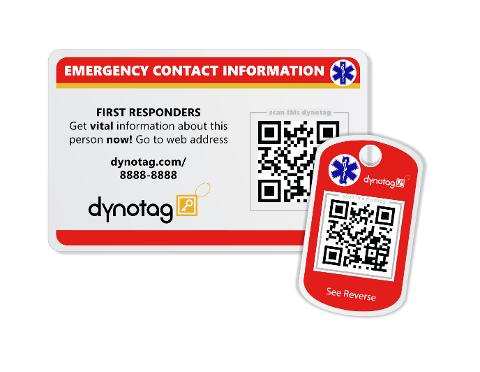 If you experienced an emergency, and an ambulance was called to your home, would the first responders treating you have access to the information that they need?
If you answered "no" to this question, you're not alone. Luckily, there's a simple solution to this problem. With DynoTag Medical ID tags, you can ensure your medical information is always accessible. DynoTag offers a variety of Emergency Contact Products, including wallet cards and ID pendants. With these products, first responders will be able to access information such as:
Insurance information
Doctor contact info
Medical consent documents
Medication and supplements you are currently taking
Allergies
Chronic conditions
This information will be accessible even when you're unconscious or unable to communicate. Furthermore, your information will be totally secure. It's one of the safest ways to store this information.
If you're like most seniors, you'll find that your healthcare needs change over time. If you switch to a new medication, or if you're diagnosed with a new condition, you'll be able to update your medical records in a matter of minutes!
You can't predict when an emergency will strike. All you can do is make sure you're prepared for it. With Dynotag, it's easy to ensure care providers will be able to access important information when they need it the most.
---
PRODUCTTITLE
This special tablet is one of the best tablets for seniors and people who might shy away from the technology we all use daily. It has a truly simple interface with large, clear, and easy to understand icons. Plus, it has content that gets regularly refreshed so there are always new things to explore.
If you don't get to talk to the receiver very often, the tablet has quick connection function for video chats and email. Tech support is available but probably won't be needed much because of the overall simplicity and intuitive operation of this tablet.
---
Two's Company Nose Eyeglass Holder
Inexpensive, practical, and a very useful gift that any 65-year old will love!
Nosy glass holders give elders the perfect place to keep their specs. If your dad or grandfather has a habit of leaving his glasses here and there and has already broken a few specs, a glass holder will come handy. These glass holders resemble the nose of a man. He can use this glasses holder to keep his specs whenever he goes to the bathroom.
---
DREAM PAIRS Men's Fur Slippers Size
This is one of my favorites. Scuff slippers are extremely comfortable. I wear them all the time in the house. So, I thought, why not gift it? The thick, soft sheepskin fur lining works magically in winters. They keep your feet warm, and the furry feeling is so comfortable that your granddad won't want to get these slippers off his feet.
RELATED GUIDE: Safe Slippers for Seniors
---
Eagle Creek 2-in-1 Travel Pillow
If the older man in your life travels a lot, a 2-in-1 travel pillow will give him the comfort during long flights. The luxurious fleece in these pillows provides the best headrest. Those who feel uncomfortable sleeping on flights often use these pillows. This one suits for everyone who wants to sleep comfortably. He can also convert the neck pillow to a rectangular shape for lumbar support.
---
Genuine Deerskin Buckskin Leather Work Gloves
Grandfathers love to walk in style when they go outside. Whether it is to run some errands or just for a casual morning walk, most elders prefer to deck up before stepping outside. A nice, warm, pair of leather gloves can be the best gift for him this season. With elastic band on the wrist, all he has to do is slip his fingers inside and tighten the elastic. It is also suitable if he is into gardening. Most of these don't hold dirt. He can wash them, and they will dry quickly.
---
Smart Tracking GPS Wallet
Older adults usually tend to forget where they kept their keys, cards, or even cash. OK, so do I!
This can be troublesome if they stay alone. So, the best gift this season will be a smart wallet with a tracker. He only needs to charge the wallet once a month. It has smart tracking facilities that will help to find him his credit and debit cards quickly. These wallets also come with GPS that can mark his current location.
---
Dill Pickle Basket "You're Kind Of A Big Dill"
This is another one of my favorites. Elders believe that pickles complete their sandwich. So, I got a collection of pickles in a handmade gift basket for my grandfather one year. He laughed but ate every single one.
You can also follow this suggestion if your father or granddad loves pickles. I'm pretty sure he will like it. Choose from the range of flavors, such as sour pickles, Tabasco-flavored pickles, organic baby dill pickles, and onion pickles.
---
Venero Crystal Whiskey Glasses
Almost anyone would appreciate a pair of stylish whiskey glasses. If your father is aging like fine wine, a couple of whiskey glasses will be the perfect gift this season. There are plenty of designs, sizes, and brands available. All you need to do is select the most stylish one. You can also add an ice cube holder along with the whiskey glasses. His on the rocks evenings will go to the next level as he pours some of the 15-year Glenlivet in that glass.
---
Kelsyus Original Canopy Chair
Does your granddad love to read books while sitting in the backyard? Or maybe wants to spend some time listening to old school music? Maybe he comes to the ball park frequently to watch the grandkids play. If yes, then a portable folding sports chair will work wonders for him.
These foldable chairs are incredibly lightweight but highly durable. Some of them also have an adjustable canopy on top so that they can avoid the direct sunlight on their face. It is one of the most useful gifts that I would recommend anyone.
---
ZonLi Adults Weighted Blanket
I am planning to ask Santa for a weighted blanket myself this Christmas. This, in my opinion, is a perfect blanket that he can carry everywhere. It is not too big, not too heavy, but provides enough warmth to keep you warm and cozy even on chilly nights. You can also do the same.
---
Whiskey & Rum Barrel Aged Coffee
If your grandfather loves bourbon and coffee, this blend will make him want more. I drink this same blend for my Sunday afternoon cup of Joe. You can gift bourbon-infused coffee every year once he acquires a taste for it. It doesn't cost a fortune, but the taste is simply outstanding.
RELATED GUIDE: Best Coffee Makers for Seniors
My Top Picks
If I had to pick the best one from these ten, I would probably choose the portable folding sports chair. But, my close second and third choice will be the whiskey glasses and the GPS wallet respectively.
Food gifts are always good too. What older man doesn't like to eat? What does your grandfather like? Find out, and pick from this list of gifts today.
Tell me some of the best gifts you ever got the senior men in your life in the comments below. Also, please share this guide on your favorite social media!