It's that time of the year when you start planning on what to gift your loved ones this Christmas.
Selecting gifts for parents, siblings, and cousins are still easy, but I find it a challenge to come up with a suitable gift for my 80-year old grandma.
Do you face the same problem too? Well, I researched a lot and shortlisted the following gifts. I'm sure that these will help you also.
12 Gifts Ideas for the Elderly Woman in Your Life
Dynotag SuperAlert ID Tags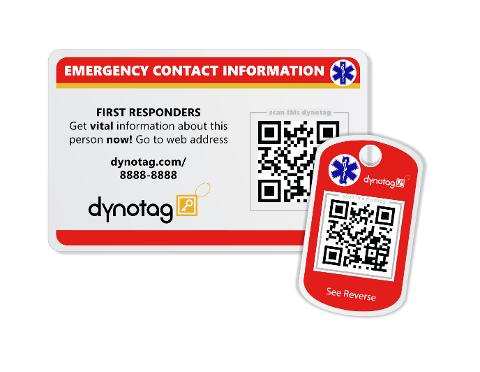 No one wants to have to deal with an emergency situation. However, you always need to be prepared for one. This is especially true as you grow older. DynoTag Medical ID Tags can provide the peace of mind you need with no maintenance required. These tags feature patented Smart Tag technology and durable build quality to ensure they are there when you need them the most.
These tags can effectively keep track of all of your pertinent medical information. You can integrate all kinds of medical information including but not limited to any medications or supplements you are taking, chronic conditions you might have, and even your doctor's and insurance information. It can make it quick and easy for First Responders to get access to the critical information they need to offer swift and immediate care if you aren't able to give the information yourself.
By getting and having a Medical ID Tag on you at all times, you will have all of your vital information in one accessible location for EMTs and doctors to use.
You won't have to worry about a doctor not knowing your health conditions, what medication you are taking, or anything else they need to know to provide proper treatment.
---
InvisaWear Personal Safety Jewelry
The world is becoming a more dangerous place for everyone – however increasingly seniors are the focus of criminals who see them as a soft target. However, technology has provided seniors with the perfect safety device – a piece of high fashion jewelry from Invisawear. each piece has a hidden activation switch that, if pressed twice will automatically text up to five close friends or relatives, alerting them to the location of the wearer and the fact that they require urgent assistance. Professional law enforcement can also be contacted via the (free and optional) 911 feature which will put the wearer in touch with an emergency dispatcher.
Setting up a notification list is simple and uses an app that can be downloaded when the jewelry item is purchased.
The Invisawear jewelry and fashion accessory line has a lovingly crafted item that will suit the individual taste of the purchaser. the options range from plain athletic bands, expandable bracelets, gold, silver and crystal pendants, gold, silver and black keychains, as well as the stunning rose gold necklaces – all manufactured from the highest quality materials.
For those seniors (or any individuals) who want the peace of mind that comes from an extra layer of safety and knowing that help is never far away, the jewelry range from Invisawear is a simply perfect marriage of style and hi-tech security.
---
10 inch Digital Picture Frame
Grandmas love old photos. Whether it is her wedding photo or family pictures over the years, a digital photo frame will take her back in time. This is one of the most nostalgic gifts that you can present her this season.
You should also get a memory card along with the photo frame and fill it with family pictures. She will love remembering the good ol' times as the photos change from time to time. And make sure you teach her how to use the remote. Or, buy one that she doesn't have to operate apart from charging the frame.
---
Hamilton Beach 1.8 Liter Electric Kettle
It is best to keep some grandmas away from stoves and burners. If she has a habit of preparing her own tea or coffee every morning, gift her an electric kettle. It hardly takes a few minutes to boil the water.
All she has to do is fill the kettle with regular water and switch it on. The kettle will do the rest. You can find a variety of branded electric kettles available. Get the one that has simple functions.
RELATED GUIDES: Kitchen Safety Products for Seniors
---
Sterling Silver Cubic Zirconia Grandma Double Heart Pendant Necklace
This is one of my favorites. I've always wanted to give a piece of jewelry to my grandmother and I came across this recently. One of the necklaces also has "grandma" engraved on it.
This is the perfect gift for those who stay away but want to gift their grandmother something that she will remember for a long time. Tell her you have a surprise and subtly put the necklace around her neck. I'm sure she won't stop beaming for a while.
---
Scented Candles Gifts Set for Women
I gifted scented candles to my grandmother one year and she asked for more the next Christmas. If your grandmother loves scented candles too, don't hesitate to gift her a bunch this year. Fortunately, there are plenty of fragrances you can choose from.
Last year, I gave her French lavender candles. She said she used it once in every week so that they would last for a year. Well, I will give her plenty this time, so she doesn't have to use it only once a week.
---
Women's Button Down 3/4 Sleeve Crew Cardigan
For those who want a last-minute gift suggestion, a cotton cardigan sweater will work wonders. You don't have to search a lot because they are readily available in some of the popular online stores. Select a color that you think will suit best on your grandmother. Try to pick a solid-colored sweater instead of checks and patterns.
---
Personalized Family Name Pillow Covers
There's nothing like adding a personal touch to your gifts, especially when you are gifting something to your grandmother. A family names pillow cover with the names of her children and grandchildren will make her want to stare at them for hours. It may not look outright stylish or something funky, but for an 80-year old, it can be a special gift that's close to her heart. Try choosing cotton as the primary fabric.
---
Unique Indoor Cactus Decor by Plants for Pets
This may not look like a typical gift, but there's always a chance that you can surprise your grandma with them. Houseplants bring a positive vibe in the house. Most importantly, she won't have to take care of these plants regular. Just tell her how many times she needs to water the plants every week, and it will be enough to keep the plants going for months. Eventually, she will grow fond of these plants and would want to have more in the house.
---
EXEBLUE Enly Winter Snow Boots Slip-on Water Resistant Booties
It's not just about water-resistant or slip-resistant slippers. As your grandma ages, she will prefer to wear slippers that keep her warm. Thanks to many manufacturers, you not only get water-resistant slippers, but they also keep feet warm during winters. They are made using sheepskin and have a furry surface. So, she will love walking around the house wearing these slippers.
RELATED GUIDE: Best Non-Slip Slippers for the Elderly
---
BLACK+DECKER Lightweight Hand Mixer
Is your grandma always baking something in the kitchen? Whether its cookies or cakes, she seems to enjoy baking all the time. Well, why not give her a hand mixer this time. In fact, I saw this on Oprah's Favorite Thing in 2018, and ever since then, I planned on giving it to my grandma. She is one of the finest bakers of all times. These are available in a wide range of colors. So, you won't have trouble selecting the best one.
---
Pinzon Terry Bathrobe 100% Cotton
Another out-of-the-box (no pun intended) gift that will surprise your grandma. Some of the ultra-soft bathing robes are so comfortable that she won't want to dress up. They are perfect for scorching summers. Available in small and medium sizes, these 100% cotton robes can become her favorite gift this season.
My Top Picks
It's a tough choice to select a single gift from this list. But, if I had to choose, I will probably go for the digital photo frame and electric kettle. Hey, and what lady doesn't like jewelry huh? Hope you will find these other suggestions useful too.
What gift ideas do you have for elderly women? Please share your ideas in the comments below. Also, please share on your favorite social media if these ideas were helpful.