Your grandkids probably have plenty of toys already from baseball hats, to Barbies, and hot wheels. Why not think outside the box when it comes to holiday gifts? Unique gifts such as those discussed here can have a long-lasting impact on the lives of your grandkids and perhaps even change them forever. Here are my 13 recommended unique gifts for grandkids.
Unique Gift Ideas for Your Grandchildren
Features
【24 Million Pixels and 1080p HD Video】This kids camera has 2.4-inch large LCD blue screen, 24 million pixels HD lens both front and rear, 4x digital zoom,7 pixels to choose, 1920x1080P video - is the best kids camcorder camera and toy camera for children's delicate eyes, keeping kids engaged and bring a happy experience for boys/girls.
【Multi-function & 32GB High-capacity】Based on the taking photos, recording videos, one-click return, added 6 scene selection, 30 photo stickers, Autofocus shooting, self-timer and time-lapse shooting, face recognition, smile capture, continuous shooting mode. Photos can be magnified 1-4 times, expandable storage capacity up to 32GB( 32G micro SD card included, can store more than 2300 photos) - The kids camera not only a toy camera but a real camera to arouse child's creativity and hobby.
【2.4-inch large LCD blue screen & Safe Materials】4. This children's digital camera adopts environmentally friendly non-toxic silicone and shockproof materials. It is RoHS, EN-71 and CE certified to ensure safe and reliable quality. And 2.4-inch large LCD blue screen give children a better visual effect to discover their colorful worlds.
【High-performance Configuration Child camera】Built-in 610mAH battery charging time 1-2 hours, 20 days long standby time, colorful flash effect (camera flashing and steady light), USB charging head. The automatic shutdown function can be selected in 1 minute, 3 minutes, and 5 minutes. Package Included:1*Kids Camera, 1*USB Cable, 1*32GB Memory Card, 1*Lanyard, 1*User Manual, 1*Cartoon Stickers
【Best Birthday Christmas Gifts for Children】【Best Birthday Christmas Gifts for Children】 this kids digital camera only weighs 0.22lb, most suitable for child's little hands to carry around, The kids camcorder camera could be a good choice for kids beginners to learn photography, cultivate their interests and inspire their potential. Suitable for birthdays, festivals, Christmas and any other special occasions.
Your grandkids might seem too young for digital cameras, but you can find sturdy, durable, simple cameras from brands such as Discovery Kids and Vtech for kids ages 3 and above. It can be quite the experience to see the world from the perspective of your grandkids and a digital camera can be the perfect tool for that.
A digital camera makes an excellent gift for both younger kids and teens. You can treat their gift like a new hobby, particularly if you are also into photography. It could be a shared passion for years to come while the framed photos they have taken can also be amazing gifts for parents.
Ideal For: School Age and Teenage Grandkids.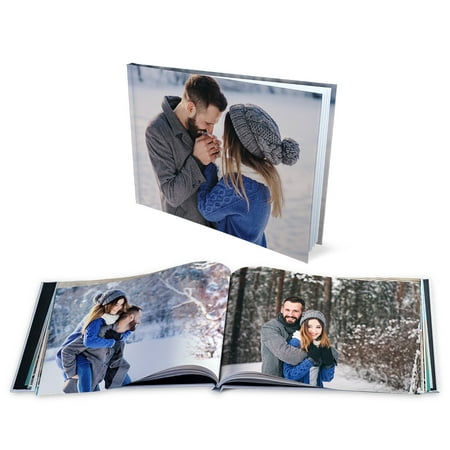 8x11 Hard Cover Photo Book
See at Walmart.com
Walmart.com
Cherish your most treasured memories in this professionally bound, sturdy, classic hard cover photo book. Choose how you portray your story with a template from our extensive collection of designs and layouts. Personalize your very own photo book by uploading and editing your photos on premium...
A photo book can be the perfect complement to the digital camera. Do your grandkids love looking at old photos and special memories. If that's the case, they would probably love to get a customized photo book.
As a grandma or grandpa, you are in the perfect position to create this book since you probably have the largest photo collection. You can include photos from when your grandkids were little babies through to now. Your grandkids will love seeing their pictures printed in a book.
ALSO READ: Keepsake Gifts for a Grandson
Ideal For: School Age Grandkids.
Features
This sporty bike for boys and girls comes with a bell, a water bottle, training wheels, and a quick release seatpost which makes it easy to adjust the height of the seat (with carrying handle on 12-14-16 inch)
Easy to put together! 95% of the bike is assembled, leaving only the need to install the training wheels, pedals, handlebar and saddle. All assembly tools are included. Features cushioned seat and high back
Also features a sturdy steel frame, a one-piece crank, ball bearing drive shaft, a full chain guard and steel wheels with pneumatic rubber 2.4" wide knobby tires featuring a custom Royal Baby tread
The combination of a front caliper brake and rear coaster brake gives many options for learning to stop. Recommended Age Range -6 years
Includes: Water bottle and cage, bell, assembly tools, kickstand and HEAVY DUTY training wheels
A shiny new bicycle can be the perfect way to encourage your grandkids to step away from their screens and go outside. Get a bike of your own and spend time with them going out for bike rides. If you have teen grandkids, you can even sign them up for a charity bike ride so that they have something to look forward to.
Instilling a sense of adventure in your grandkids and helping them make it a habit to become active by encouraging them to go out on bike rides is a great investment for their future and has the potential to enrich their lives as well as yours.
Ideal For: Grandkids of All Ages i.e. Toddlers, School Age, and Teens.
Small Pets Like Hamsters or Reptiles
OK. This is probably a little controversial! But, a pet can be a life-long friend and can teach your grandkids critical lessons about responsibility. The friendship that can grow between a kid and his/her pet will give them memories that last a lifetime, which is the best gift you can ever get them. Also, you don't have to get a dog or cat. Start with a hamster, guinea pig, ot even small reptiles.
Ideal For: Toddlers and School Age Grandkids.
Features
Q A a Day for Kids A Three Year Journal
You should seriously consider gifting your grandchild a journal and encourage him/her to write in it every single day. You might actually inspire them to become journalists or authors. Even if your grandkids don't end up becoming professional writers, having a paper journal is a great way for them to relive their past. Introducing grandkids to a different way of expressing themselves and working through their feelings can result in mental health benefits that last a lifetime.
Ideal For: School Age and Teen Grandkids.
Today, there are several companies and websites such as Cratejoy.Com that provide monthly subscriptions to children. From science kits to boxes that promote cultural awareness, cooking boxes and more, you will always find something guaranteed to interest your grandkids.
You can set up a time for working through the contents of the subscription boxes together with your grandkids, or you can encourage their parents to set time aside to work through the box with their children if you live far away.
Ideal For: Grandkids of All Ages i.e. Toddlers, School Age, and Teens.
Features
Card is redeemable only for purchase of movie tickets and associated convenience fees or purchase or rental of content on Fandango.com, FandangoNOW.com, and participating Fandango or FandangoNOW apps. Card cannot be used at theater box offices.
Redemption: Online
No returns and no refunds on gift cards.
If your grandkids love watching movies or you know of a new release that's coming out soon that they are excited about, you should consider sending them a movie ticket. The great thing about movie tickets is that they can be easily delivered from any distance and most services offer gift card or email delivery options.
Ideal For: Grandkids of All Ages i.e. Toddlers, School Age, and Teens.
Features
✅SAFETY IS THE MOST IMPORTANT - All kids play instruments are made above the most rigorous standard in this line with non-toxic material. Passed the most strict toy test of ASTM F963, CPC certification to ensure safety for Children / kids. Please kindly note: The toy set is for kids over 3 years old.
✅PLAY & LEARN - Designed for early childhood music education, musical classes and family parties. 11 types 17 pieces of musical instruments toys provide interesting and abundant playability, helping kids improve their creativity, concentration and intelligence, motor skills, hand-eye coordination, social skills, and build rhythm perception natually at the same time.
✅A SMALL BAND - One bag meeting all your needs. Tambourine, maracas, shaker eggs, finger castanet, hand touching bells, handle sliegh bells, rainbow bell stick, jingle stick, tone blocks and kazoo. Use Kazoo to hum a tune, use other items to create magic rhythms. Don't stop children to make noises, that is probably one of the entrance to music hall. Use this instruments toy set to explore more ways to play, best choice for families and adults playing with kids together.
✅QUALITY ASSURED - This set of percussion instruments toy set has been supplied by us for 3 years. Encountered any problems, contact us the first time through amazon you will get the quickest help on the planet. Top Toys for Toddlers/ Kids Gifts!
✅EXCELLENT GIFT OPTION - This is the greatest gift option for toddlers boys or girls. Watch the video and see how to play.
Helping your grandkids discover a new passion or talent has the potential to be life changing. If your grandchild has started showing an interest in music, a unique gift of a violin, drum set, or even a guitar can transform their life by giving them an outlet for expression that they previously didn't know existed.
Ideal For: School Age Grandkids.
Educational Travel Experience
Sharing your passion for travel and learning can be an excellent way to instill the same passions in your grandkids forever. The memories they make and bonds they build during an educational travel experience can last a lifetime. The next time you want to gift your grandkids, think outside the box by giving them an experiential gift rather than a physical one since time spent together is the best gift for the both of you.
Ideal For: Grandkids of All Ages i.e. Toddlers, School Age, and Teens.
Buying shares for your grandkids is not only a unique gift idea but also a smart one on many levels. It means that they will have something put away for the future whether it is to fund their college studies, first car, or even a deposit on their first home.
It also gives your grandkids the opportunity to learn about the stock market, money, and the incredible power of compound interest. Your grandkids might not be interested immediately, but they will definitely start paying attention once they see how much the account has grown.
Ideal For: Grandkids of All Ages i.e. Toddlers, School Age, and Teens.
Start a College Education Fund
Today is the best time to start saving towards the education of your grandkids. Education is expensive, which is why you should consider starting an education fun that you can regularly replenish until your grandkids turn 18 is a smart and thoughtful gift from grandparents. You can set up a 529 college savings plan like many other grandmas and grandpas do that can be used for books, tuition, and other educational expenses.
Ideal For: Grandkids of All Ages i.e. Toddlers, School Age, and Teens.
One of the best investment gifts you can give your grandkids is a savings account that you add to every birthday and holiday. Your grandkids might not understand the importance of having a savings account until they turn 18, but the money can go a long way towards changing their lives in the future.
Ideal For: Grandkids of All Ages i.e. Toddlers, School Age, and Teens.
If your grandkids already have enough presents, you can talk to your children about providing 1 year of private school tuition or even sports fees for the grandkids. School fees and activity fees can easily add up to thousands of dollars each year. You can also show your support by attending school performances or school games.
Ideal For: School Age Grandkids.
Summary and Final Recommendations
If you are like most grandmas and grandpas, getting the right gift for your grandkids can be tricky. It sometimes can be hard to find the perfect gift item. However, the 14 gifts discussed here can be an excellent starting point. The time and effort you put into the gifts will be a lasting memory for you and your grandkids, and that's something that money cannot buy!
What ideas do you have for unique gifts for the grandkids? Tell me your ideas in the comments below!
Other Guides You'll Want to Read