If a person you care about has problems with walking or incontinence, you know how difficult a trip to the bathroom can be. Luckily, the right bedside commodes for the elderly are convenient, comfortable, and safe.
They bring peace of mind, so you (or your loved one) don't have to dread going to the toilet.
Or worry about making it on time.
Bedside commodes are very convenient and affordable solutions to a serious problem. And fortunately, they come in different styles, shapes, and sizes.
In this guide, I'll share my 20+ years of experience in the home medical industry and show you my top recommended bedside commodes, along with a guide on choosing one for yourself.
Top Bedside Potty Chairs for Adults
These are reviews of my favorite bedside commodes for aging adults who need a better toileting solution based on my personal history and professional experience with each product.
Microban Protection
Medline Elements Bedside Commode (Best Overall)
Key Features:
Seat Width: 19 inches
Adj Height: 17 to 22.5 inches
400 Pound Weight Capacity
Microban Protection
Pros:
It is very eye-pleasing; it looks like and can be used as a regular chair
There are additional antimicrobial features for better hygiene
It is bigger, similar to a regular elongated toilet
Cons:
It disassembles for portability rather than folding
The Medline Elements bedside commode is my best overall recommendation because it is durable, multi-functional, and looks much better than your standard potty chair.
And, let's face it, people coming to your home will probably see it.
I've seen people use a bedside commode as additional seating while visiting their loved ones. This chair looks so good that this isn't an utterly horrifying thought! The commode area is covered by a wide, flat seat lid that makes it look like a standard chair.
It offers the adjustable legs that I recommend and adds to it. The arm height and back height are adjustable too, which adds to the overall comfort of the chair. These options are all adjustable on the fly, too, without needing tools.
The seat and backrest are made from a softer plastic but are still comfortable. The plastic is infused with Microban Antimicrobial Protection which inhibits the growth of bacteria and microbes that cause stains and odors.
Finally, it offers you all the advantages of a 3-in-1 commode because it fits right over the toilet. It even includes the splash guard to ensure everything hits the intended target, aka the toilet bowl!
---
Most Comfortable
Platinum Health UltraCommode™ Foldable Commode Shower Chair
Key Features:
Seat Width: 20 inches
Adj Height: 19 to 23 inches
300 Pound Weight Capacity
Foldable and Portable
Pros:
Most comfortable bedside commode on this list
Adjustable in terms of height and access
Materials are durable and also allow them to be used in a shower
Cons:
It can't be used over a toilet
Some seniors say that the seat opening is too small
If you have fragile skin, the padding can irritate it when used in a shower
This simple-to-fold bedside commode is the best option for seniors who value comfort.
This high-end product has a thick padded seat that is wider than most. The seat itself measures 16 inches by 16 inches with an overall spacing of 20 inches between the arms.
Why is that important? The extra space between the arms means it will fit more seniors comfortably.
This seat has a large, open front for easy hygiene. Plus, the padding won't absorb water, and the aluminum frame won't rust.
This bedside commode offers lots of adjustment, too, which adds to its overall comfort. In addition to the standard adjustable height legs, you can also adjust the height of the arms, increasing back and shoulder comfort.
Finally, a huge benefit of the UltraCommode is that it can be folded or assembled without tools in less than 60 seconds. This makes it great for storage or travel. Even less than mechanically inclined seniors and caregivers can set this one up quickly.
---
Easier Transfers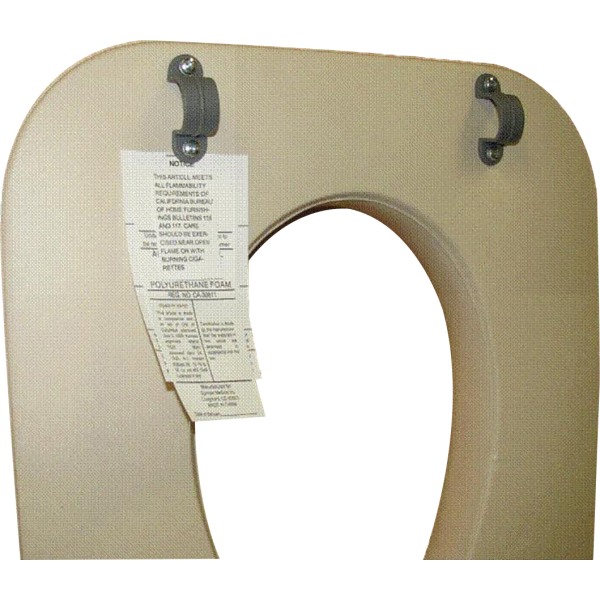 Medline Heavy Duty Padded Drop-Arm Commode
Key Features:
Seat Width: 18.5 inches
Adj Height: 20 -25 inches
350 Pound Weight Capacity
Does Not Fold
Pros:
Drop-Arms give improved access
It's padded, which greatly increases comfort
It can be used over a toilet or even in a shower
Cons:
This commode can't be folded
This drop arm bedside commode offers improved access and is recommended for seniors who need to get on and off the chair from the side.
The armrests can be dropped with a simple push of a button, so it is the best choice for users in a wheelchair. With this feature, they can more easily slide on and off the toilet laterally instead of coming straight off the front.
In addition to movable armrests, this bedside commode also has a soft padded toilet seat and backrest for increased comfort. The handgrips are even made for comfort and are padded with foam.
A few more things to like about this choice are that it is heavy-duty and durable, with a maximum weight capacity is 350 lbs. It also includes my recommended accessories: a commode, a lid, and a splash guard.
When you remove the backrest, the commode can be used over a regular toilet for true 3-in-1 commode use.
---
Lightweight & Portable
Vive Health Folding Commode (Best Standard Bedside Commode)
Key Features:
Seat Width: 18 inches
Adj Height: 14.5 to 20 inches
350 Pound Weight Capacity
Folds Easily for Portability
Pros:
Low seat height is a great option for shorter seniors
Lightweight and easy to fold for transportation and storage
Appealing color and design
Cons:
The seat and backrest are not padded
If you need a highly portable bedside commode, then this one from Vive Health is your best choice. It is lightweight and designed to fold up in less than a minute. Yet, it still has a weight capacity of 350 pounds!
You will also appreciate the extra large and deep bucket that will hold a large volume… and the airtight lid is included to eliminate splashes and messes while carrying it to be cleaned.
Although it is a pretty basic bedside commode chair from there, it does have a few extras. The armrests are padded for comfort, and I find the color more pleasing to the eye than some other options.
It fits nicely over the toilet if you'd like to use it as a raised toilet seat or safety frame.
This one is well-suited for shorter seniors because the seat height will go as low as 14.5 inches. It should fit people closer to 5 feet tall and a little under very well.
---
Durable & Heavy Duty
Drive Medical Steel Folding Bedside Commode (Best for a Budget)
Key Features:
Seat Width: 18 inches
Adj Height: 16.6 to 22.5 inches
350 Pound Weight Capacity
Foldable and Portable
Pros:
Great price for a durable product
Cons:
Some users have complained of seats being too narrow
Next, we have a basic but durable steel bedside commode from Drive Medical built for more heavy-duty use and to last. Its steel construction guarantees it. This one is the best pick for seniors or caregivers who need a commode that will take a bit of abuse.
Steel does have its drawbacks, and you should be aware of these. For one, steel commodes are heavier. They are also known to feel cold quicker than other materials.
It comes with a snap-on seat, lid, and a high-capacity 7.5 qt commode bucket. You even get a cover for the bucket to reduce splashes while transporting it and a splash shield to ensure everything goes where it is supposed to!
It has a wide range of height adjustability, and the seat can be positioned between less than 17 inches and as high as 22.5 inches off the floor.
But, the distance between the arms is only 18 inches so that it won't fit wider or heavier seniors, as well as some of my other recommendations.
It is also the best bedside commode for people on a budget who want a well-built product. The capacity is 350 lbs.
Finally, it does have folding legs to make transportation and storage easier.
---
Bariatric Commode
Key Features:
Seat Width: 23 inches
Adj Height: 16.5 to 23.5 inches
350 Pound Weight Capacity
Does Not Fold
Pros:
Great for people who need a stronger commode
It is stable and offers enough space
Easy to use over a regular toilet
Cons:
No splash guard under the seat
This DMI bedside commode is a bariatric mode, so it is an excellent choice for larger people since it has a capacity of up to 500 lbs. It has 23 inches between the armrests, so it's extra wide and will fit bigger people with wider hips.
It is adjustable from 16½ to 23½ inches to fit both shorter and taller seniors.
Like most others on this list, it can be used as a seat over a regular toilet for improved comfort and safety. The bucket is plastic and easy to clean. This bedside commode can also be helpful for people recovering from surgery or with hip problems.
It doesn't fold, but it can be disassembled if you need to move it or take it somewhere else.
Shopping Guide: How to Choose the Best Toilet Chair for the Elderly
When shopping for a bedside commode chair for an older loved one, you want to ensure you find a high-quality, comfortable commode that is also stable and safe.
1. Proper Fit
Some commodes on the above list are narrow and won't fit some larger people.
You can always take a quick measurement across the hips of the person who will be using it and then compare that to the width (between the arms) of the commode chair.
The bariatric commode models are wider than standard commodes and support more weight.
2. Adjustable Height Legs
You want to make sure you get a toilet commode chair that is height adjustable. This makes it easier for the user to get on and off their potty chair. Most models offer quick adjustments using push pins. You shouldn't need any tools to make these adjustments.
Adjustable Height is critical if you intend to use the commode over the toilet as a raised toilet seat. That way, you can ensure the bedside commode is high enough to sit over your existing toilet.
3. Generous and Comfortable Seat
Choose a comfortable and easy-to-clean seat. Some commodes even have padded seats, making them much more comfortable than a hard plastic seat. Padded seats can be cleaned easily, too, as long as there are no cracks or cuts in the outer layer.
Click here to see my list of the best padded toilet seats for the elderly. These are a great way to make a toilet more comfortable. Some can even be used in conjunction with a bedside commode.
Removable seats are a great option because they make the seat easy to clean. Plus, removing the seat makes the commode chair more portable.
4. Removable Bucket
Cleaning is easier with a removable commode bucket which can be carried to a sink or a water hose for cleaning. Get one with a lid to cover the "contents" while holding the bucket.
5. Stability
Stability is vital for safety because commodes are light in weight and can be tipped over if not used correctly. Look for one with rubber feet to resist slipping.
Also, ensure each leg is adjusted to the same length and that all four feet are on the ground simultaneously.
6. Easy to Clean
The commode chair must be easy to clean, right? You don't want to spend a lot of time cleaning commode buckets! Fortunately, most commode buckets are plastic and easy to clean.
Also, looking for a frame that is easy to wipe down and clean without many places for "stuff" to hide is best.
7. Durable
Of course, you want to choose a durable commode that will last a long time. Steel commodes are more durable than aluminum models and support more weight too. But, they are heavier and more challenging to move around if necessary.
8. Portability
Sometimes, it is necessary to move the commode from room to room in a home. Or, maybe the user occasionally travels or visits other family members. Foldable and portable commode chairs are easier to move around than stationary models.
Look for one that folds easily with minimal steps. You'll also want a removable seat and commode bucket to make it easier to transport when needed.
9. Weight Capacity
Some commodes support users up to 650 lbs. Make sure you compare the user's weight to the chair's weight capacity.
Tips for Using a Bedside Commode Chair
Using a bedside commode chair shouldn't be difficult.
When you buy it, you should adjust it for the person who is going to use it. The height of the seat should be optimal so the person can sit down or get up easily.
Toilet paper and wet wipes should always be nearby.
Before use, pour a little water into the commode bucket for easier cleaning.
You should always check if the commode is stable – you don't want it moving around.
A person using the toilet should always grab the handles firmly when sitting down or getting up.
When done, you should always clean the commode thoroughly and as soon as possible.
Why Are Bedside Commodes Also Called 3-in-1 Commodes?
Bedside commodes are also called 3-in-1 commodes because they are versatile pieces of medical equipment that have multiple uses. These 3 uses are:
Commode Chair – because they are portable, bedside commodes can be used as a bathroom chair anywhere in the home. They can also be moved from room to room as needed.
Toilet Safety Frame – because these commodes have arms on them that are nice and high, they can also be used as a toilet safety frame when placed over a toilet. The tall arms give elderly people a stable base to push up from and help them stand more easily.
Raised Toilet Seats – when placed over a toilet, you can use the adjustable height legs of a commode to raise the seat height. A bedside commode quickly becomes an elevated or raised toilet seat in this configuration.
How to Use a Potty Chair as an Over-the-Toilet Commode
As I explained in the previous section, you can position a bedside commode over your existing toilet as a raised toilet seat with arms to get a taller toilet. The higher arms of a bedside commode improve safety for the elderly when getting on or off the toilet.
To use your bedside commode as an over-the-toilet commode:
Remove the bucket from underneath the bedside commode.
If the commode is in another room, fold it up so that you can get it through the doorways.
Unfold it and make sure it is locked back into position.
Place it over the toilet by straddling the toilet and placing two legs on each side.
If the commode is too low to fit, adjust the legs so that they are taller.
Make sure all the legs are the same length, and the commode is stable and doesn't rock or lean.
Have the user try it out and make adjustments as necessary.
The best bedside commodes come with shields that you can place into the opening that covers the space between the bottom of the commode seat and the top of the toilet bowl.
This makes sure everything goes into the toilet as intended and reduces cleaning.
Frequently Asked Questions (FAQ)
There are a few common concerns about mobile toilets that people have. I will try to help and explain so you have a clearer picture when getting one.
What is the Safest Way to Use Bedside Commode Chairs?
3-in-1 Commode Bedside Instruction
How Do I Clean a Toilet Commode Chair?
Most commodes are easily cleaned, and the bucket should be emptied as soon as possible to eliminate odors. You should clean the container with a toilet brush, disinfectant, and water. The body of the commode should be wiped with disinfectant.
These Tidycare commode liners can be of great help for cleaning because they are mess-free. They are easily adapted into the bucket and are waterproof.
Afterward, dispose of the liquid in a toilet. Then pull the strings on the sides to tie the bag and dispose of it as you would of a regular diaper.
How Much Does a Bedside Commode Cost?
As I've discussed in the text, you can get a budget-friendly commode for as much as $34, going up to over $200 for more premium products.
Are Bedside Commodes Covered by Medicare?
Yes, with the correct paperwork, documentation, and an order from your doctor, some of the popular bedside commodes are covered items under Medicare.
Summary: Best Bedside Commodes for Seniors and the Elderly
Bedside commodes are sometimes necessary to make life easier. They shorten the distance you have to go to use the bathroom. So, they might prevent an accident if you can't walk to the toilet safely or in time.
To find the best bedside commode for yourself or a loved one, look for one that is comfortable and has the height adjustment the user needs.
You should also choose one that is easy to clean, maintain, and looks good too. Any of my recommendations should serve you well.
Do you have another commode chair that you recommend? Do you have a question I haven't answered? Tell me about it in the comments below!