Our elderly parents' security is something that most of us will struggle with as they age. Undoubtedly we all need some peace of mind that they're safe and secure in their houses, or at least where you last left them. There's usually that fear that people with dementia might get lost when they head out alone. There's also a risk that some might have a fall when outside.
Fortunately, a GPS tracker works by keeping an eye on an elderly parent's movements whenever you aren't there to do so. Typically, these devices collect information on their movements and routes and send alerts whenever there's an issue. It might be an email alert if wearers go out of range or perhaps an SOS SMS from the specific wearers.
There's a wide range of products that include senior tracking as a tag in their expected role. Some are more dedicated to this goal than others, as you'll see from the products listed below. The vital thing is that the best GPS trackers for seniors and the eldelry have smart, dependable real-time readings. Besides, they should be pretty easy to use and offer just enough features to assist – instead of too many.
How Do GPS Tracking Devices Work?
GPS trackers adopt a piece of technology that assists in tracking and pinpointing its carrier's precise location. Global Positioning System, or GPS, is a satellite-based navigation system that enables a personal GPS tracking device to connect with a group of satellites in orbit to determine its location. That GPS location is either transmitted to a central database or recorded on the device.
GPS trackers typically come in all shapes, sizes, and with lots of features to ensure security. Most of them are multipurpose and could be used to track virtually anything. However, today we'll look more at people trackers, especially those that are best for the elderly.
Since a person's memory becomes weaker with age, they might become prone to diseases like Dementia and Alzheimer's Disease. Seniors with such conditions are often more forgetful and easily disoriented or confused.
This is a major concern because they can get lost or even worse, become a victim of kidnapping, rape, or an accident. And this is where an elderly tracker could be useful. It enables you to know your loved one's location without them feeling monitored.
Types of GPS Trackers for Elderly Adults
There are 4 different types of GPS tracking technologies you would use for seniors and the elderly. They are:
Wearable Devices – these devices are worn on the body often in the form of jewelry and watches. Most of these aren't true trackers but can give a GPS location when needed. An exception is the GPS SmartSoles that are hidden in a shoe's insole. This style is best for seniors who might need to summon help and might not be able to give their location.
Keychains and Tags – these are like the wearables in that they are generally carried on a set of keys. Some of these offer tracking and some serve more of a medical alert function by identifying and giving medical information.
Portable GPS Tracking Devices – these are the more traditional GPS trackers you are probably thinking of. These can be placed in pockets, bags, or purses and can provide constant monitoring – even while the person is moving.
Vehicle GPS Tracking Devices – this type of tracker attaches to a vehicle and provides monitoring while the vehicle is moving. You often see these used with teen drivers. They can provide driving safety stats as well as the location. They are installed on a vehicle typically.
What Are the Best GPS Trackers for Seniors ?
Here is a list comprising some of the best available products right now whether you want a GPS tracker for a person or a vehicle. Each of them has its benefits and flaws. For this reason, we have included some clear pros and cons in these objective reviews. By the end, you'll have a better idea of the type of product you need.
Wearable GPS Enables Devices
GPS SmartSole – In Shoe GPS Tracker
IMGCODE
This device provides a discreet solution that fits perfectly in the shoes of your loved one. According to the Alzheimer's society, "walking about" isn't necessarily a wrong thing because it allows a dementia patients and those with Alzheimer's disease to alleviate stresses and partake in exercise. However, this can be somewhat frightening for those concerned with their care since dangers like getting lost or busy roads are a real threat. Putting a GPS tracker in shoes of a loved one may help alleviate some of this fear.
Certain prescription drugs or extra security measures such as locking doors impact freedom, life quality, and can be a considerable risk – for instance, in the event of a fire. In general, the GPS Smartsole Dementia tracker helps maintain the maximum quality of freedom and life for the individual while maintaining their security and peace of mind. The best GPS for shoes. A monthly fee is required.
Pros:
Discreet for senior concerned with people knowing
Insoles trim to fit their current shoes
Doesn't affect comfort of current shoes
Displays location on mobile app or web app
Set up alerts and zones for immediate notifications
Cons:
Insoles are noticeably thicker
Requires monthly monitoring agreement
Batteries need to be charged every few days
Here's a quick video demonstrating the SmartSoles:
---
InvisaWear – The Discreet Way to Send an SOS
Although most of your jewelry might do a bit more than sit still and look pretty, that undoubtedly isn't the case with invisaWear. It's generally a new line of smart accessories and jewelry that lets users promptly contact family members, friends, and the authorities in the event of an emergency. invisaWear replaces the phone as your lifeline in tricky situations and is a wearable that can certainly go anywhere and everywhere.
Regardless if you prefer a keychain pendant, a bracelet, or a necklace, invisaWear can integrate smoothly into your life. The simple thing you need to do is to press the button and discreetly contact your dear ones and/or the law enforcement. Although the invisaWear is most beneficial in emergency situations, wearers can have peace of mind knowing that emergency responders are just a push of a pendant away.
For senior men, there are key chain options that look more masculine than the jewelry options.
Pros:
Sends SOS messages and GPS location in the event of an emergency
Looks like standard fashionable jewelry
No batteries to charge
No monthly monitoring fees
Cons:
Must be paired with a mobile device
Battery lasts for one year and device must be replaced (at a discount)
Here's a quick invisaWear demo video to show you how it works:
---
Dynotag SuperAlert ID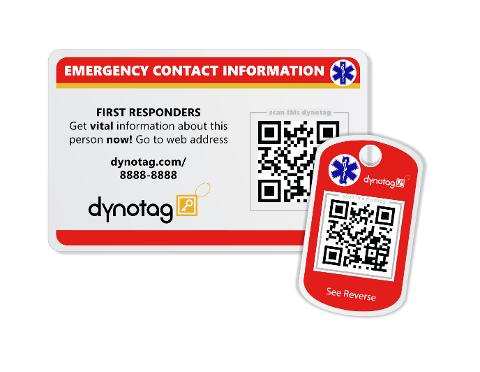 This handly little tag isn't really a GPS tracker but it can be of tremendous help during an emergency because it provides emergency responders all the information they need to help you. For seniors with dementia or Alzheimers it can provide the wearer's name, address, medical info, and emergency contacts.
There are several options available from simple tags to wearable jewelry. Each item has a code that can be scanned with a mobile device that will give the needed info. To make this work, you go to the Dynotag website and set everything up in advance.
Pros:
No monthly service fees
Low price option
Lots of options
Can provide important info if a senior gets lost or has an emergency
Cons:
Doesn't provide true GPS tracking
Must be put on and worn at all times
Here's a story about how DynoTags can help:
---
Freedom Guardian by Medical Guardian
The new trend of medical alert and GPS tracking watches for seniors fixes some of the major issues for medical alerts. Generally, they're reliable, stylish, and come with a range of senior-friendly functionality that can greatly assist with remote caregiving. Although not the ideal solution for all, it provides convenience and protection to an entirely new section of active older adults.
Pros:
Multi-function device: watch, activity tracker, and GPS tracker
Calendar and messaging alerts
GPS and WiFi tracking
Quick response times when testing
Large, easy to read face
Cons:
Monthly subscription fee required
No fall detection
Here is more info on how the Freedom Guardian can help:
---
Keychain / Tag Tracking Devices
YEPZON Poketfinder Freedom 3G GPS Tracker with SOS Button
This personal safety product has both tracking and alarm functions. Since it's made for day-to-day life's unexpected scenarios, the GPS alarm adopts the latest tracking technology. This product is the first safety device available that has an alarm feature, WiFi indoor tracking, 3G tracking, and GPS tracking all in one. It has a clear design and includes a considerably low monthly subscription cost, which makes it an excellent option for your loved one as human trackers.
Pros:
Track movements and whereabouts using a smartphone app
Includes SOS button
Uses WiFi for indoor tracking too
Different modes depending on needs of senior
Low monthly fee
Cons:
It could have a better battery life
Must be worn or taken with the user intentionally
---
Portable GPS Trackers
iTraq Nano – Dementia Wandering Device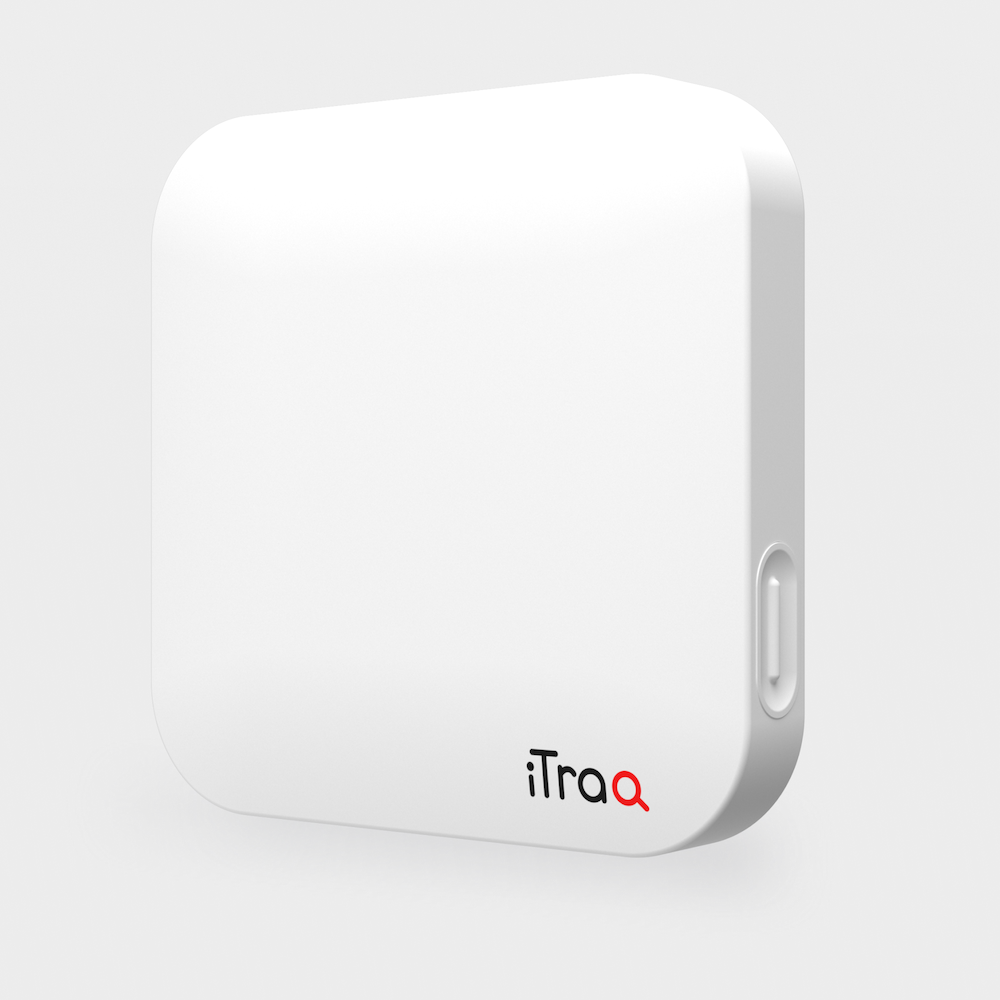 This product is light, thin and you can conceal it anywhere. Simply put it in a purse, pocket or on a keyring for continuous monitoring.
With this little square device you can define a safe area for your loved one to wander in, monitor the temperature of their environment, and set up alerts when they are on the move. It tracks their movements indoors and out – anywhere in the world.
You interact with the iTraq Nano via a smartphone app. There are no plugs or screens to confuse the user either. Charging is done via a standard IQ compatible charger to charge it wirelessly.
Pros:
Small, discreet and lightweightLong battery life
Motion detection
Mobile app has lots of functions and monitoring options
Temperature sensor
Cons:
Batteries need charged periodically depending on reporting schedule
Device must be worn or carried intentionally unless installed in a common item
---
LandAirSea 54 Real-Time GPS Tracker
In case your elderly parents hate to be tracked, you could still watch them closely by utilizing this GPS tracker. Because of its unique design and small size, the product doesn't even resemble a GPS tracker. That means that you can hide it any place you want.
Due to its upgraded and innovative technology, the multipurpose tracker ensures your loved ones remain safe and protected. When it comes to personal tracking, the 54 GPS tracker is ideal and at an affordable price. It's also technologically advanced, precise, and durable, and this makes it a safe investment. It includes a monthly fee.
Pros:
Offers precise real-time location
Durable
Strong magnet for attaching to vehicles
The battery is rechargeable and long-lasting
Needs no sim card to work
Cons:
Monthly service fee is required
---
Jiobit – Smallest Real-Time Location Tracker
This patented location tracking platform that makes use of GPS, Cellular, WiFi, and Bluetooth. It's one of the tiniest location trackers on the market for seniors and children and aids keep your loved ones safe. Since it's tiny and lightweight, it will clip discreetly to shoes and clothing.
Jiobit, which works with a smartphone to provide real-time tracking location data, will track any location. Jiobit uses cellular data when tracking location. Plans are chosen at activation in the Jiobit app – but no separate cellular contract required.
Pros:
Small, lightweight and discreet
Instant notification when location changes
Detailed activity history reports
Water resistant and durable
Cons:
Small, lightweight and discreet
Instant notification when location changes
Detailed activity history reports
Water resistant and durable
---
GeoZilla GPS Location Tracker No Monthly Fee
This lightweight and discreet GPS location tracker by GeoZilla works anywhere in the world. It even includes the first year of data service!
You can set custom monitoring alerts based on the senior's movements and there is an SOS button should they need to summon emergency help. Establish safe areas to minimize the alerts you receive.
The battery is rechargeable and lasts about 5 days. Battery save mode helps reserve battery power when not in use.
Pros:
No monthly fee!
Includes a 1 year data plan in the initial price
Small, lightweight, and unobtrusive
Custom alerts and safe zones
SOS button Belt clip and case included
Cons:
Battery requires charging every 5 days or so
Must be on the person or an item they always take with them.
This video shows you how to use the GeoZilla GPS tracker:
---
GEGO Worldwide Real Time Tracking Device
This credit card sized tracker works anywhere in the world and was actually designed for luggage. But, it can be used as a real-time GPS people tracker too!
Like many of the other devices mentioned here, you download an app to your cell phone that displays the real-time location of the device. You can set and schedule alert based on your needs with safe zones or periodic check-ins.
No SOS button is included with this device though.
Pros:
Easy to use
Single-button control
Good battery life
Accurate location tracking
Global coverage
Cons:
No travel/ storage pouch
Monthly fee required
No SOS button
---
Vehicle GPS Trackers
Tracki 2020 Model Mini Real time GPS Tracker
This device tracks vehicles worldwide with the included international SIM card. It is lightweight and easy to place anywhere in a vehicle. A monthly monitoring fee is required. An SOS button is included too!
With a device like this, you can get SOS alerts, speed alerts, and notification anytime the vehicle starts moving. History reports are available too.
The batteries included are rechargeable. If you need real-time monitoring, they only last 2-3 days but they can last months depending on where you set the reporting cycle.
Pros:
Small, lightweight, and easy to hide
SIM works worldwide
WiFi tracking when indoors
SOS button included
Cons:
Activation fee and monthly service fee required
Requires frequent battery charging for real-time monitoring – an extended life battery is available
---
Vyncs GPS Tracker for Vehicles
In general, Vyncs GPS Tracker is an ideal tool for monitoring elderly drivers. It can also be helpful when locating your stolen car or to business owners who need to keep track of their fleet. It's also extremely accurate and will tell you the precise location where your vehicle is. What's more, you also get several additional features such as maintenance alerts, zone notification, fault codes alerts, etc.
This device installs in the vehicles OBD port which usually just requires plugging it in. So, no batteries or battery charging is required. It provides real-time tracking via a smartphone app. Alerts and safe areas are customizable too.
Pros:
No monthly fees
No battery needed
Driver scoring system
Roadside assistance available
Cons:
Activation fee but no monthly fee
More visible than other options Long-term commitment
---
Spytec GL300 GPS Tracker for Vehicles
They Spytec GL300 is only 3″ long and small enough to be attached to your car's undercarriage or simply tucked into a pocket. It provides the monitoring options you would expect via a smartphone app.
What set this one apart is the extended battery life. The standard battery lasts up to 2-1/3 weeks – so no need for frequent recharging. An extended battery is also available to last up to 6 months! A waterproof magnetic case is also available.
Pros:
Impressive battery life
Real-time monitoring from computer or smartphone
Unlimited tracking range
Location and boundary alerts
Cons:
Depends on T-Mobile coverage only
Does require occasional charging unless upgrading to the extended life battery
Monthly service fee required
---
Final Recommendations
A GPS tracker will assist you in monitoring your loved one's movement. They are especially helpful if you care for people with dementia or Alzheimer's disease. It could notify you of their whereabouts every second – if need be – so that you can be sure of their safety and can access them in case of anything.
In this article, I have compiled reviews of the best GPS trackers for elderly adults and seniors with dementia. Hopefully, with this list, you can now select the most suitable tracker for your loved one. For ultimate safety, a tracker's crucial feature is its ability to provide you with real-time tracking information.