Deciding what to gift an elderly senior loved one is a challenge for many.
They are past the stage of enjoying funky clothes or using the latest gadget. So, I found it really tough to choose. But, I did manage to shortlist a few inexpensive gifts, which I think you will also find useful.
The Best Inexpensive Gifts for Seniors
Dynotag SuperAlert ID Tags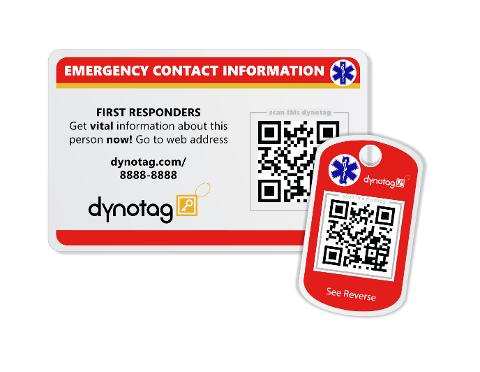 Planning for an emergency is one of the best ways to ensure that you can effectively deal with one. DynoTag Medical ID Tags help you do just that. These tags are designed to be extremely durable and long-lasting. After all, what good would a tag be if it was easily damaged? These tags are designed to be easy to update and supply the necessary first responder emergency information needed for the wearer.
These tags can be life-saving. Without having immediate access to necessary medical information, a first responder will be unable to take immediate action. They need to know things like whether or not the person in need of care has allergies or other related medical conditions that could alter the needed treatments.
It can be very difficult having an elderly loved one living on their own without constantly monitoring them. When you get your loved one a medical ID tag, you will be able to rest easier knowing that if an emergency situation does arise, the responders will be able to take immediate action to assist them without having to contact you first.
---
TimerCap Smart Pill Bottle Caps
Most senior citizens find it difficult to keep track of their medication. Some of them can't even remember the names of the medicines they should take after respective meals. That is why my number-one recommendation is gifting a pill organizer that comes with reminder alarms. This is also helpful for elders who have Alzheimer's. It hardly costs a few bucks but helps seniors a lot.
---
Puzzle Subscriptions
Many older seniors enjoy spending the entire day reading books or relaxing. Keep them engaged with simple puzzle games, word searches, crossword puzzles, or even Sudoku books. Those who like to solve the crossword puzzle in the newspaper the first thing in the morning will find love this gift.
My grandparents spent hours solving word searches every day. Plus, you don't have to spend a fortune on them. In fact, I would recommend gifting several gifts, such as crossword puzzles and word searches together.
---
Ariat Unisex Boot Jack
Senior citizens should keep active as much as possible. This helps them to stay fit both physically and mentally. Gardening is one of the activities that elders love. They love taking care of plants and watching them grow inch by inch every day.
If your loved one also has this habit, gift them boot jacks. Taking off boots or other footwear can be a pain for older seniors. Instead, they can make the most of a boot jack that provides support to open their garden boots quickly.
RELATED GUIDE: Wheelchair Accessible Raised Garden Beds
---
RATIVE Anti Slip Non Skid Slipper Socks
This is one of the gifts that satisfy both functionality and fashion. Elders usually don't tend to purchase new socks frequently. Some of them even wear double socks to keep them warm in winters.
I recently found rubber grip, non-slip socks that provide the same function. They keep the feet nice and cozy and reduce the chance of a slip and fall. You can even choose from a wide range of styles and colors. So, pick a color that suits your grandfather or elderly uncle soon.
RELATED GUIDE: Best Non-Slip Slippers for Seniors
---
Papillon Back Massager with Heat
There is nothing more comfortable than a warm massage on an aching back. Senior citizens often complain about neck and back pain. A massage pillow will be the most valuable gift this season. They don't cost a fortune, and you may help to get rid of their constant pain. You can attach these pillows to an armchair. So, your elders can relax the day in their armchair with the massage pillow at the back of their head.
---
Burt's Bees Classics Gift Set
A gift basket is a universal choice when it comes to gifting elders in the house. They love a collection of items in a single basket. Plus, they are available at very affordable prices. Of course, you shouldn't get a gift basket that contains candies.
Instead, you can get the ones that have specialty teas, snacks, puzzles, games, books, or other handy items. You can even customize the gift basket by choosing the items you want to keep inside. A set of tea bags and coffee beans will be suitable.
---
Tile Mate – Key Finder. Phone Finder. Anything Finder
Like the pill organizer, this is another useful gift that older seniors will love. I would personally recommend this gift because I know that elders tend to forget where they kept the garage or home keys. This is essential for those who stay alone most of the time.
Some of these key finders can work from 300 feet away. You can connect them to their mobile phone using Bluetooth. This will reduce the chances of losing any key in the house.
---
TaoTronics Light Therapy Lamp
Winter can be darker in many countries. You may have 16 to 18 hours of darkness, and that can be a pain in the butt for many elders. It drags them down and keeps them in the bed for long hours. Moreover, many elders also have mobility challenges. They can't go outside and enjoy the natural sunshine. A light therapy lamp is the best substitute for natural light. It mimics natural outdoor light so that elders don't feel they are missing out on anything outside.
RELATED GUIDE: Best Lighting for Elderly People
---
hOmeLabs Portable Induction Cooktop
Do your grandparents only use the stove to heat water for their tea or coffee? Give them a portable induction cooktop so that they don't have to deal with fire. This is an incredibly inexpensive gift for senior citizens, especially for those who stay alone. It also helps improve their safety in the kitchen.
---
HoMedics Deep Sleep Mini Portable Sleep Sound Machine
Many elderly seniors suffer from insomnia. They can't sleep at night then remain drowsy throughout the day. A sleep sound machine can come to their rescue. These make calming, soothing sounds that can relax their mind and help them drift off to sleep. You can get the ones that come with sound level adjustments based on surrounding noise.
My Top Pick
If you ask me which one is my favorite, I would have to at least choose three from this list: the pill organizer with alarm, the puzzle pack, and key finder.
So, which one are you gifting your elderly seniors this festive season?
What other ideas do you have for inexpensive gifts for senior citizens? Tell me about them in the comments below! Also, please share this article on social if you found it helpful!